Victories help Wildcats continue surge to league title
De Soto came so close so many times, its seems a little harsh to call the ball that finally rolled in lucky.
Nevertheless ...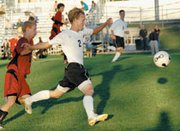 The Wildcats pressured Ottawa from beginning to end Monday, but went most of the game without a score. Zach England finally let loose with a direct kick, however. It bounced four feet in front of the goal and soared over the Cyclone goalkeeper, missing the leaping defender's outstretched fingers by a hair and tucking underneath the crossbar by an equally tight margin.
Lucky or not, it gave the Cats all the lead they needed. De Soto added an insurance goal in the game's final minutes and recorded its fifth consecutive shutout, beating Ottawa 2-0.
"It was frustrating not scoring goals, but we've been doing that all season -- controlling the game and not putting the ball away," senior forward Scott McKechnie said. "We knew we had to stay with it and not get frustrated, and eventually it ended up happening."
De Soto has struggled to place ball in net all year, but Monday's game actually came as even more evidence that this isn't the same squad that bumbled through the season's first several weeks.
The Cat attack featured crisp passes, quick moves and plenty of near misses. Scott McKechnie broke free early in the second half and blasted a ball hard right at the goalie. Moments later a Paul Oswald cross shot fell just a step in front of a surging Brett Hevel, in nearly perfect position to score.
The frustration began, festered and built until finally England's ball bounced just high enough to give De Soto a 1-0 in the game's 62nd minute. It came in hurtling toward the goal for 45 yards out and meant from the start as more of a pass than a goal.
T.J. Blankenship added a second score in the 77th minute to end any chance of a Cyclone comeback. Hevel took a ball on a throw in, finding a gap 25 yards from the goal, but at a nearly impossible angle.
His quickly got a shot off, squeaking it out ahead of two collapsing defenders, but it didn't even come close, sailing toward but well in front of the goal. The ball slipped through the goalie's fingers as he jogged out to corral it, however. It wasn't the first time the ball had squirted away on the wet evening, but it was the first time a Wildcat was there to pick up the trash.
Blankenship quickly and easily deposited his sixth goal of the season.
"We were continuing what we have been doing for the last couple games," McKechnie said. "We've been playing together a lot as a team and continuing to practice as a team and we've been connecting with everyone on and off the field.
"That's helped out a lot."
De Soto's offensive composure has certainly played a role in the team's dramatic winning streak -- now at six games -- but the Cats' swift, swarming defense has ensured any lead will hold up.
Ottawa held the game's momentum for only 10 minutes Monday, threatening on several occasions after England's goal. Only once did De Soto truly dodge a goal, however.
Wildcat keeper Tyler Phongsavath came out for a save, but couldn't get a handle on the ball. Two diving saves by Wildcat defenders in front of the open net kept the game a shutout.
"Defensively we didn't play as well as we have been, but that was due to their speed and the surface, which was wet," De Soto coach Darren Erpelding said. "Still, we played at a very high level, with very high intensity and at a very high pace.
"That's really helped us. We've picked up these last two wins because the other teams aren't as fit as we are and they're dying at the end of the second half."
Monday's win, combined with Thursday's 2-0 triumph at Gardner, ensure De Soto will at least share the same record as the Frontier League champion. The Cats went 6-1 through their league schedule.
This is the first season the Frontier League has awarded a soccer champion. League schools have been split among others leagues in the past.
Louisburg too only has one loss, and it beat De Soto head-to-head. Louisburg has one league game remaining, but it's against first-year program Spring Hill. Without an upset, De Soto will likely fall via tiebreaker to finish second.
"We play these guys (Ottawa) or Gardner in the beginning of the year and we probably don't win. We definitely don't control the game," Erpelding said. "We did a nice job to lose (to Louisburg) then come all the way back and win every league game.
"One of our goals was to come out and win that league title. It means a lot to these guys to have a chance to do that."
The Cats are next in action Monday as they play a rematch against Gardner. They play their final match of the regular season Oct. 18 at home against Eudora.