De Soto history entwined with Linden family
Chuck Linden remembers stepping onto the basketball court his freshman year at De Soto High School with his brother Gene and three cousins.
"We were all Lindens," he said at a Linden family reunion Sunday at Zimmerman's Kill Creek Farm, which reunited the eight surviving children of Herb and Agnes Linden -- Gene, Chuck, Bob, Delbert, Jack, Pat Young, Jodey Schmidt and Zola Stephan. Two sisters, Helen and Ailene, and two brothers, Bill and Don, have died.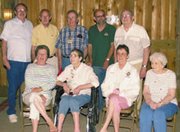 Chuck's older brother Gene defined just how pervasive the Linden family was and remains in De Soto. There was a Linden in De Soto High School for more than 40 consecutive years, he said.
With a former mayor in the family and the name of the local VFW post commemorating the Linden boys and brother Bill, it would be difficult to write the history of De Soto without mentioning the Lindens.
In fact, the city was founded just three years before the eight siblings' grandfather John Linden and his wife, Mariah, arrived in De Soto in 1860, Stephan said. The couple from Kobletz, Germany, settled for a time in Missouri and other Kansas towns before landing for good in De Soto.
The Linden family also became entwined through marriage with two other early De Soto families, the Robertsons and the Jewitts.
Her grandparents were farmers, Stephan said. Her father started as a schoolteacher before moving on to work for the city and as a deputy sheriff in De Soto.
"It was bad for me because all the patrolmen in the state had my license number on their dash," she said. "If I was where I shouldn't be, I got stopped."
Brother Bob said their father, Herb, worked "24 hours a day" for the city, doing all kinds of jobs. He was De Soto fire chief, city clerk as well as a no-nonsense sawed-off shotgun carrying town marshal with methods his son suspects wouldn't go over well today.
Bob, too, gave service to the city. The Korean War vet came home to be mayor of De Soto from 1958 to 1962.
"I was young and foolish," he said. "Back then, the city was so broke, you just got by. We built a new water plant (on the Linden's old home place at Shawnee and 82nd Streets), and had to deal with a broken sewer line that was dumping sewage in Kill Creek."
Things have changed since, but the siblings agreed the biggest change to De Soto in their lifetimes came with the opening of the Sunflower Ordnance Plant just before the start of World War II. Bob said he was one of 23 eighth-graders going to schools in De Soto and the small rural schools that fed De Soto High School.
"The next year there were 102 freshmen in our class," Bob said.
He remembers his parents, like others in De Soto, struggled during the Depression years of the 1930s. He used to provide food for the family table shooting squirrels and rabbits, Bob said.
The opening of Sunflower meant new opportunities for the Lindens and others, Stephan said. The family rented rooms to those working at the plant and her mother took in laundry to make extra money, she said.
Chuck's basketball skills opened an opportunity for him when he was recruited by legendary Kansas University coach Phog Allen. But that fell through when he was caught smoking his first-ever cigarette at a KU football game.
"KU hadn't scored a touchdown in forever," he said. "When they scored, I got so excited I ran down to the field. The freshman basketball coach was one of the linesmen. He saw me smoking.
"Monday morning, I was called in to Coach Allen's office. My stock went all to hell with him after that."
It didn't matter because his career at KU was destined to be short, the 1938 De Soto High School graduate said. He was a member of the Kansas National Guard and was called to active service in 1940.
Chuck was enrolled in flight training and spent much of the war flying the "Hump," as the supply missions from India to China and Burma were called. In the process, he won a chest full of medals, including the Bronze Star, for the dangerous missions over the Himalayas that claimed 168 lives from July through December in 1943.
Chuck came back to De Soto briefly after flying the required missions and volunteered to go overseas again. He left the military after the war when he was made a trainer in Louisiana, which was not to the liking of someone who had twice battled malaria and used to the thrill of dangerous missions. He remained a corporate pilot and is now retired to Indianapolis, Ind.
Older brother Gene also saw service and was wounded in Italy during the Battle of Monte Cassino, which led to one of his rare visits back to De Soto. He stayed in the Army after the war and became a second lieutenant after completing officers' candidate school.
If the war gave Gene and Chuck career opportunities, it also brought tragedy. Bill was killed April 4, 1945, in the skies above Germany just 39 days before the end of the war in Europe.