De Soto has presence in Greensburg
Steve Chick had seen the pictures of Greensburg of the kind he took that he can now spread across his desk in De Soto City Hall.
But the De Soto building inspector said he was unprepared for what he witnessed when he arrived in the southwest Kansas town five days after the storm laid waste to the community of 1,400 people.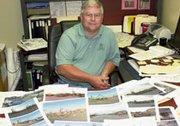 "Greensburg didn't get blown down; it ground it up," he said. "It was 1.7-miles wide with 207 mph winds. It ground up everything in its path.
"That they only lost 10 people is amazing."
Chick was in Greensburg from May 9 through May 12, responding to an email from Johnson County building inspector Jerry Mallory's request for help. Chick and Mallory were joined that first week by Bret Johnston, a building inspector for Sedgwick County.
"They didn't have a lot of city services," he said. "They didn't have a planning department or city inspector. They didn't need one. They only had one or two homes built a year.
"Now, they're the biggest building project in the state."
Chick arrived in Greensburg as the community was still digging out, assessing damage and taking initial steps toward rebuilding. The town's near total devastation has been well documented, but Chick said there were homes on the town's east and west fringes that survived. Depending on the degree of damage, their owners wanted to know if their homes were safe or needed building permits for new roofs and other repairs, he said.
"It was a constant stream of people," he said. "People came in for building permits, safety measure against more damage, damage assessments, recommendations for contractors -- everything."
Storm chasers
The team attempted to provide residents some protection against "storm chasers," who descend disaster-stricken areas to fleece residents looking to rebuild.
"They don't have contractor licensing like we do in Johnson County," Chick said. "We told people to ask for references, don't pay upfront and don't make large deposits."
Chick also met with those who lost their homes in the traditional small-town neighborhoods -- just as exist in Old-Town De Soto. Chick said some suddenly homeless Greensburg residents, who had already been shopping for modular homes, had to be told to make sure their plans would work.
"Those are 50- to 65-foot wide lots," he said. "Trying to get a modern home on that footprint or putting a modular home on something like that is non-conforming. It just doesn't fit the footprint."
Fortunately, some modular home manufacturers were aware of potential problems and contacted the city about what might work, Chick said.
Still, building and zoning issues "were going to be huge," Chick said, as the city came to grips with modern building standards in the old neighborhoods and dealt with residents unused to dealing with building codes or planning regulations.
In the week after the storm, the Greensburg City Council replaced its few building codes with an updated uniform codes, Chick said. It also tried to increase permit fees from $35 to from $700 to $800.
"They went back to $35," Chick said. "People didn't understand why they were having to pay these high fees when they'd lost everything and for years they'd paid $35.
"They don't understand the higher fees were to hire staff to manage this huge construction project. They're going to have volunteer help for a while, but at some point they're going to have to stand on their own."
Late last week, Greensburg Mayor Lonnie McCollum resigned, citing a desire to enjoy his retirement. But there was some speculation complaints about increased building costs and regulations at a recent council meeting played a role in the decision.
It's one issue among many. The tornado took the city's tax base with 95 percent of its homes and its downtown commercial district, Chick said. None of the city's four banks, schools or churches survived. About the only structures of significance still standing and useful were the grain elevator and the Kiowa County Courthouse.
The city offices, shop, fire station were all destroyed. The city-owned electrical distribution and generation system are gone. The water tower was toppled. The city's natural gas provider can get gas to Greensburg, but had to shut down service into the city because of the hundreds of uncapped lines, Chick said.
"I talked to one lady in a gorgeous old stucco house," he said. "Her home had been lost, and it was their summer home. But it was heated with a gas space heater. If she can't get gas, she's going to go through a pretty cold winter."
Records lost
Important city records were strewn among the debris that carpeted the city and fields beyond.
"They didn't have a lot of digital records," Chick said. "If your sewer and water lines were recorded on paper maps and they're lost, what do you do?
"Recovering basic data for services is a challenge."
When he first arrived, he didn't have a copy of city building codes or regulations or zoning maps, Chick said. Fortunately, the city's consulting planning firm was able to provide those on the third day, he said.
An asset was the response of the Kansas National Guard and personnel from communities across the state, Chick said.
Aiding, also, was the response of private-sector relief organizations. The agency that most impressed Chick was Mennonite Disaster Services.
"They were on the scene within hours, and they never left," he said. "They were cleaning people's lots, bringing items out, clearing farmers' fields -- all kinds of crazy things. And they do it all for free."
Greensburg had a small Mennonite congregation, Chick said. Its pastor, the Rev. Jeff Blackburn, was indefatigable in helping others even though he, too, lost everything in the tornado, he said.
FEMA has also been a big presence, providing the city with three trailers for use as temporary city offices, and a steel fabrication manufacturer has donated materials for a new city shop.
In another sign of rebirth, the local grain co-0p is rebuilding its scale house/office for the wheat harvest to start in early June.
"That's important, because that building has a basement that can be used for another community meeting room," Chick said.
Greensburg is paying back other communities for assistance with hard-learned lessons, Chick said.
"There wasn't a day there I didn't think what if this had happened to my small town," he said.
De Soto has advantages Greensburg didn't, Chick said. There are numerous emergency providers within miles of De Soto that could respond within minutes of a disaster. City records are backed up electronically and kept off site.
The city has an emergency preparedness plan that coordinates with that of Johnson County, and city personnel are trained using FEMA's command structure, Chick said.
Nonetheless, Chick said he would tell the De Soto City Council next week more needed to be done.
"My message to the council is, 'What is our level of preparedness and what can we do to better our response?'" he said. "Something like that reaches every department of the city.
"Whatever their planning was, they didn't have enough to recover. We're ahead of them, but we don't have enough. We need to look at every department to see what we can do to improve our level of preparedness."
More like this story