Wildcats stumble, drop regional final 3-0
Maybe it would have felt different had the De Soto girls soccer team not been playing so well over two weeks. Maybe it would have felt different had they not already advanced further in the regional playoffs than ever before. Maybe it would have felt different had they not started Thursday's season-ending loss to St. James Academy with a dazzling defensive showcase and a 0-0 tie at halftime.
Maybe not, however.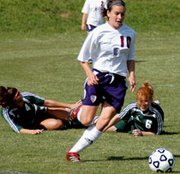 De Soto fell 3-0 at St James Thursday afternoon, bringing to a close the most successful season in the program's three-year history. The Wildcats' defense gave way in the second half and its offense struggled all 80 minutes. Both were disappointing considering the roll the team had been on coming into the game, yet few were actually disappointed when the game actually ended.
"They're good," De Soto coach Darren Erpelding said of St. James. "They're just so good. There's nothing to hang our heads about."
The offense never came very close to breaking through, but early it appeared the defense was up to the challenge of a low-scoring game.
St. James beat Tonganoxie 7-1 to advance to the northeast regional final game, but a determined effort by De Soto goalie Megen Bedford and the Cat defense kept them at bay through the first 40 minutes.
Playing on a field with a slight slant toward one goal, De Soto missed its best opportunity to pull the upset when it couldn't score when it had the geographic advantage.
"I thought the sun would be more of a factor," he said. "I thought we could wear them down some by the second half.
"I wish we had done that differently. Megen was outstanding though -- she was so ready for this game."
Instead, it was in the second half that the Thunder finally found a way through. Playing downhill literally -- and once they scored one goal -- figuratively, their offense woke up.
St. James scored its first goal as a ball rolled through a cluster of players from both teams. Several from both sides took swings until finally a St. James player got control and rolled it into the net, far out of the reach of Bedford.
Bedford had a much better look at the Thunders' second goal, but that too was a tough one to actually stop. A pair of Wildcats chased two breakaway St. James attackers down the field when finally one stopped, spun and let loose a missile, right at Bedford. It slammed off of her body and continued into the goal, almost as if it hadn't even been touched.
Struggling just to get open amongst seemingly ever-present swarms of St. James defenders, De Soto's goal-scorers could never find an answer.
"Their defense was very organized. They put so much pressure on our midfielders," Eprelding said. "We just didn't have any open space because they always clogged it up.
"I don't have any complaints with the way the girls played. At the end, our players were just gassed."
De Soto finished the season with an 11-6 record, a significant step up from 8-6-2 finishes each of the team's first two years.