Starside students earn fifth community service banner
The community service hours Starside Elementary School students contribute are making the community better, the school's students were told Monday at an assembly.
The event recognized 36 students who logged at least 50 hours of community service this year and three students who served 100 or more hours.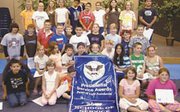 Starside students performed more than 3,500 hours of community service this year, making the school eligible for a School of Service Award from the President's Points of Light Foundation. It is the fifth year Starside's students have earned the award.
"Each of you, no matter how small, makes a difference," De Soto Multi-Service Center coordinator Jodi Hitchcock told Starside students in a short speech at the assembly. "Some of you might not think about it, but you probably help out."
Hitchcock said that helping out relatives also counts as community service although it might not feel like hard work.
"No matter how small a task, all of that adds up," she said.
Each student recognized received a letter from the Points of Light Foundation, a signed letter from President George W. Bush, a certificate and a bronze, silver or gold pin.
Bronze pins were awarded to 32 students who served 50 to 74 hours, a silver pin was awarded to one student who served 75 to 99 hours and three gold pins were awarded to three students who served 100 or more hours. Starside Associate Principal Tim Smith presented the awards.
The three gold pin recipients were fifth-graders Kaytlyn Green and Alejandro Carlos; and second-grader Stephen Wingo.
Kaytlyn completed 100 hours of service. She helped at the World War II Memorial and at many Veterans of Foreign Wars projects. She was a kindergarten buddy and donated to Caring is Sharing. She went to Community Service, helped with Back to School Night and made corsages for senior citizens. She also was a hostess at parent-teacher conferences.
Alejandro accomplished 105 hours of service. He was a kindergarten buddy and he helped with Circle of Friends and Ghosty Goodies. He was a host during parent-teacher conferences and donated to Caring is Sharing. He helped teachers and helped in the cafeteria.
Stephen achieved the most hours of service with 132. He went to Community Service and participated in Jump Rope for Heart. He helped clean the Nature Center and was involved in many scouting activities including Scouting for Food. He helped clean Pow Wow grounds and donated books, toys and clothes to charity.
This is not the first time Stephen received recognition for community service. Although he is only a second-grader, he has been recognized since kindergarten, and he achieved the most service hours in the school last year as a first-grader, his mother Jennifer Wingo, said.
Wingo said her son's commitment to community service comes naturally.
"We do a lot as parents," she said. "We're involved in Cub Scouts and many community efforts. He sees us doing it so he does it with us."