The cool thing about track meets is they are a story all together, and dozens of stories set apart. Never was that more true than for the De Soto track team Friday as it traveled to Hoyt for the regional track meet at Royal Valley High School.
The overall story was one of undeniable success -- the Cats qualified 14 athletes for this weekend's state meet at Wichita's Cessna Stadium. It's the small stories that really made the day glow, however.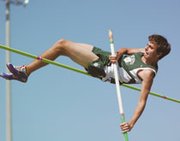 Jackie Goleman may well have been the first Wildcat to qualify for the state track meet, and in absolutely no way is that a surprise.
How it all worked out was.
De Soto track and field coach Chris McAfee repeated again and again that there's no sure thing when it comes to regionals. OK, but Goleman is as close as it comes. She qualified for state in three events as a junior, and entered Friday's meet with good chances in three more. She won the 2006 Class 4A high jump state title with a leap of 5-foot, 6-inches.
But Friday she nearly proved McAfee a prophet. She cleared 4-10 with ease, then flew through the bar three times at 5-0.
The defending high jump champion made it back to state in her signature event, finishing fourth in the region.
"Whenever she's been getting to 5-0, she's been changing her approach," De Soto coach Brian Dinkle said. "She's been hopping into it as she comes up to the bar, and that's been shortening her approach. It's pretty easy to fix though, so she'll be ready for state."
Goleman went on to qualify in the 100-meter hurdles as well, finishing fourth in 4A's toughest hurdle region with a time of 15.41. It gives her a third chance to qualify for the state finals after missing that honor as a sophomore, then tripping over a hurdle to spoil her chances as a junior.
If Goleman was first, fellow-senior Riley Day was probably second. Unlike Goleman, he was no sure thing. Like her, he was in by a hair.
Day started pole vaulting his freshman year, but never challenged for state until this season.
Then he did it this year without his best jump.
"This is awesome," Day said. "I didn't do so hot today. I think I got really lucky to get to state, but I got that chance and I'm going to take it and run."
Day used all three attempts to clear 11, but flew over 11-6 on his second jump. Day was then one of three jumpers who didn't clear 12, but he advanced to state in fourth place thanks to his clearing of 11-6 on his second attempt, better than one of his final competitors.
Having cut things close with Goleman and Day seemingly jump-started the entire team. Soon results were raining in, Cat qualifiers coming from all corners.
Chesney Burgweger slipped in to qualify in the triple jump, coming in fourth with a leap of 32-5 1/2.
Burgweger again qualified in what McAfee deemed another one of De Soto's most "sure things," the girls 3,200-meter relay.
The girls -- Burgweger was joined by Trish Roberts, Morgan Frehe and Lauren Karnitz -- cruised in the race. They carved out a comfortable spot behind the race's leaders, Wamego and Clay Center, but well ahead of Tonganoxie. It was the third consecutive year the team qualified, and it easily bested its qualifying time last year, 10 minutes, seven seconds this year compared to 10:16 last season.
Away from the track, senior Christina Davis was putting the final touches on one of the day's most shocking performances.
Davis has long set state as her goal, but she entered Friday with the field's sixth best discus throw, more than 20 feet behind the region's longest thrower, Kara Champlin of Concordia.
That didn't seem to matter, however. Davis threw 108 feet, nine inches, a throw that would have gotten her into state no matter which region she was in, but one that led her to her first track meet victory.
Davis, not even supposed to qualify in her own region, won it and will head to Wichita a regional champion.
"She came out and got a great mark right away, then she just kept throwing consistently and held off some great competition," throws coach John Ernst said. "She didn't throw as well as she possible could have, but it was good enough to win, and that's pretty exciting.
"She's ecstatic. It's pretty exciting when you can win a meet of this caliber."
Andre Linzy didn't appear to be having quite as good a time of it as he climbed from the long jump pit muttering.
"Not a good day," he said. "Not a good day at all."
Well, that's one way to look at it. Linzy, a life-long basketball player, took up track this year for the first time in his life. The addition meant he'd had to forego spring basketball, but he hoped on some level it'd eventually help him.
Has it ever. Linzy said his measurables -- his vertical and his speed -- have greatly improved. He rode his surge to three state bids, qualifying in the 200 and the long jump, and winning the triple jump.
A regional championship -- that's not bad for a bad day.
On the track the Cats continued to put up good performances, though finally some just weren't quite good enough.
T.J. Blankenship gutted out the final 800 in the boys 3,200 relay to send one group to state, but Miranda Gilmore came a couple inches short of qualifying in the 100, then was again close in the 200 finals.
Sarah Lambert threw the javelin 111 feet, five inches, good for sixth in De Soto's region, but good enough to qualify in two others.
Karnitz, already qualified in the 3,200 relay and already an individual state medalist from last year's 1,600, qualified again in the 1,600 with a second-place finish, and also added a trip in the 800 with a fourth-place finish.
The day wouldn't have been complete with one last final act of drama, and one final great performance.
Lucas Slater seemingly had little trouble securing his first individual state bid, grabbing and clinging to third throughout the eight-lap 3,200. For senior Chris Dvorak it was anything but easy.
Dvorak has made two previous trips to state, serving as an alternate for the 3,200 relay as a sophomore, then running on De Soto's 12th-place 3,200 relay team last season. An individual bid, that's something entirely different.
He said it after the race, but he showed it during.
Dvorak went out with the lead group from the start, but began bleeding speed and soon was well behind both the races leaders, and the all-important fourth-place runner.
Coach Chris McAfee, watching from behind a chain-link fence on the stadium's far side, offered encouragement and support, but didn't appear brimming with confidence as Dvorak passed for the fifth lap.
It was all different 45 seconds and 200 yards later. Dvorak began to step quicker as he came around to the home stretch, and while he was still well behind the place he needed and three laps still remained in the race, McAfee bounded down the fence and hollered, "Chris is going to state!"
He was right. Dvorak kept his pace up and made up the ground, passing one opponent to climb into fifth, then catching up to Jake McMillian of Bishop Ward to contend for fourth.
"We were right next to each other, then he started to pull ahead on the last lap in the last 200," Dvorak said. "Then I just felt something in me. I saw him kicking early to get ahead of me, and I looked down and said 'If I kick right now, he wouldn't be able to do anything about it.'"
Dvorak had him. He surged past McMillian with 50 meters remaining and maintained the gap the rest of the way, McMillian finally giving in, throwing his hands over his head in disgust two steps from the finish line.
"I wasn't really anticipating going to state. It might have been a subconscious goal, but I just wanted to do as well as I could," Dvorak said. "It really hit me once I was done. I finished, and I was just like 'Wow. I just individually qualified for an event.'
"I've always done it as a part of the team, but this was my first time as an individual."
It's a network of stories that told the story of De Soto's trip to the regional track meet. No doubt it'll be the same way Friday and Saturday as the team heads to Wichita to claim the prizes it earned at Royal Valley.