Municipal pool opens Saturday
The De Soto Aquatic Center will open Saturday for its second season with all the features planned in its original design.
Foremost among the new features are the tot and family slides planned for the pool but removed from the construction contract when bids for the pool came in over budget. The slides were added back in last spring when it became apparent money would be available in the pool's contingency fund, but there was never an appropriate time to install them during the swim season.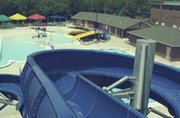 Also finished since last season is the lower-level parking lot west of the Community Center, which was paved last fall after the pool closed.
Finally, a shelter house and playground equipment long planned for the Community Center site were installed at the northeast corner of the pool. Adjacent to the mini-park, workmen are now finishing a small storage shed that will house daily pool supplies.
What haven't changed are the pool rates. Resident individual season passes remain $55 and family passes are $95. Senior passes are $20 for individuals. Single day passes are $2 for seniors and $5 for all others.
The $5 admission fee will be waived for Saturday's pool opening for those bringing items for the De Soto Multi-Service Center food pantry. Two of such items as macaroni and cheese, SpaghettiO's, raviolis, fruit cups, fruit snacks, pudding in cups, cereal, raisins, peanut butter, jelly, snack crackers, graham crackers, juice boxes and canned chips will get patrons admitted to the pool without paying the $5 fee.
But the free pass won't matter to many forward-looking De Soto families. Pool manager Justin Huslig said the city had already sold 55 season passes. Fifty-one of those are household passes and 10 of them were sold to families living outside of De Soto.
Huslig said adult aerobics would start June 4 and swim classes begin June 11.
The city will also offer the Dolphins Swim Team again this summer, which encourages youngsters in advanced skills, Huslig said. The team was introduced in the pool's first season to gauge interest in forming a competitive team.
Water has been in the pool for about three weeks and is warming, but it is still a bit cool, Huslig said. He is hoping for warm, sunny weather to heat it a bit more before Saturday.
More information on pool activities and rates can be found at www.desotoks.us.