DHS

seniors thankful for four years of opportunities
A week before she graduates, Christina Davis still carries her dog-eared daily appointment calendar that got her through her senior year.
Chronicled in the swollen calendar are nine months of activities and assignments as Davis balanced her academics with volleyball, basketball, track, student government, future educators organization, the De Soto High School Madrigals and the fall musical.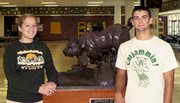 Davis and fellow senior Tanner McNamara are on the final countdown of a busy year with just a few finals remaining before Saturday's graduation. They are two of 107 seniors expected to graduate Saturday in De Soto High School's 88th graduating class.
As she entered her final days as a high school student, the well-used appointment book underscored what she said stood out about her high school experience, Davis said.
"Probably all the chances I had to be involved," she said. "The high school is small enough you can get involved in anything you want."
She found the school small enough to become acquainted with many fellow students but large enough she could still meet new people every day, Davis said.
McNamara's senior year was filled with his participation on the cross country team -- he was a member of the school's boys cross country team which finished third at the state 4A meet (the girls team won the state title) -- band, jazz band, the school's buddy program and track -- until his senior season was shortened by injury.
One of the changes the class has seen is growth as Davis and others who started in kindergarten 13 years ago in what is now USD 232's downtown De Soto technical center where joined by new classmates. McNamara was one of those, although he is no newcomer having started in De Soto schools as a fourth-grader.
But McNamara said the transfer gave him perspective, as did subsequent visits to shadow the buddies he left behind in their Olathe schools. He felt as though the students didn't know each other, he said.
At De Soto, the students grew closer as they moved toward graduation, McNamara said.
"As we got older, the cliques and groups started to dissipate," he said. "I met a lot of people that two to four years ago I didn't talk to. Now, I'm good friends with them."
His favorite high school class was political science, McNamara said.
"It was hard, but I learned so much," he said. "I just thought it was a great insight with how the country works.
"It's against common sense -- let's make a country that doesn't work so it works."
Both Davis and McNamara plan to attend Kansas State University in the fall. Davis will study chemical engineering and hopes to keep active in the performing arts.
With her choice of a college major, Davis' favorite high school class is perhaps not surprising.
"I really liked all my math classes, but if I had to choose one it would be human anatomy," she said. "I really liked learning about the entire body and how it all worked together. We looked at a lot of stuff I'd really never thought about."
McNamara's college career will be a bit different. After the fall semester, he will enter boot camp for the U.S. Marines and when that is completed will undertake two six-week sessions in officer candidate school.
Although active duty, McNamara will then participate with a Reserve unit finishing his studies at K-State.
"I guess I feel the people of this country are worth fighting for," he said. "There's a quote from Albert Einstein, 'The world is a dangerous place, not because of those who do evil, but because of those who look on and do nothing.'"
He chose the Marines because that service's recruiting officer best articulated his motivation for joining that service, McNamara said.
Davis, who will speak at graduation as one of the class' top scholars, said she was ready for life's next adventure.
"I love my classmates, but I'm really excited about going to college," she said.
More like this story