Cat classic
Everyone medals as De Soto grabs second at 4A state
Topeka — You're supposed to save your best stuff for the biggest stage.
No need to remind the De Soto boys tennis team. Given the chance to shine, the Wildcats did, and in doing so sewed up the program's best-ever season.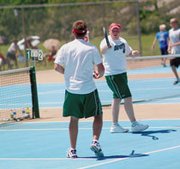 De Soto finished second as a team Saturday at the Class 4A state tennis tournament at Topeka Hayden High School, and it did so thanks to an opening day of the tournament that the Cats won't soon forget.
Seniors Dan Hoschouer and Andy Edwards went on to finish fourth in doubles, and singles players Andrew Konetzni and Matt Edwards were seventh and eighth respectively, career-best performances that earned all of them individual medals after action was concluded Saturday.
It was Friday's action that got the Cats there, however.
Hoschouer and Andy Edwards started their path to the state semifinals with a 6-0, 6-0 win in their first match against Corey Rizzo and Alex Beugelsdisk from Buhler. They then survived their only slip of the day, a 4-6 first-set loss to Davin Anaya and Denton Coltrane by bouncing back to take the second two sets with ease, 6-2, 6-2 and put the team where it had hoped to be all season: within one match of the state championship. "We had a little let down in the first set of the second match, but then we turned it up after that," Hoschouer said.
Matt Edwards continued De Soto's hot start with an opening-round victory against Josh Cech of Goodland.
The No. 4 finisher in last week's regional tournament, Edwards had to face a regional champion, but still managed to pull out the upset, 6-2, 3-6, 6-4.
He lost his quarterfinal match to Eric Sparks of Iola 0-6, 0-6, but won in the loser's bracket against Aaron Peak of Buhler to earn a shot at fifth place.
Andrew Konetzni also came out on fire, taking his first match against Peak 6-4, 6-3. He fell in his second against Zach Willis of Independence 3-6, 2-6, but bested Richard Lee of Andover 9-2.
Things didn't go as well Saturday, but for De Soto, the goods were already in the bag. Konetzni and Matt Edwards' upsets in the first round of the tournament helped the Cats amass enough team points to withstand a hard change by Hayden, and hang on to their biggest trophy ever.
"That was one of the major goals when we came in," Andy Edwards said. "We wanted to place as a team, then whatever we could do individually would be on top of that."
Eventual doubles champions Andrew Posch and Dan Porter of Independence sent Hoschouer and Andy Edwards to the state consolation match, but once there, the pair seemed to be onto something special again.
De Soto's top pair had lost three times to their third-place opponents, Joe Flynn and Cody Martinek of Topeka Hayden, and had never even taken a set off of them. They lost twice in as many weeks heading into the tournament, including in the championship final of the De Soto invitational, and in the regional championship one week later.
Saturday, the Cats brought everything they had, however. Hoschouer took the first game of the first set with his serve, and secured the third game with a thundering smash between his two opponents.
"Our mindset was that we were going to beat Hayden," Hoschouer said. "We started off great. We won the first set -- first time we've ever done that. Then we held a lead in the second set."
Edwards served well and patrolled the net and De Soto quickly took the first set, 6-3.
They had chances in the second set, too. The pair had game point three times with the chance to go up 5-3, but eventually lost the set, 6-4. Flynn and Martinek found their stride in the final set, dropping the De Soto seniors to fourth with a 6-3 win.
Both Matt Edwards and Konetzni dropped their chances to play for fifth, Edwards falling via tiebreaker and Konetzni losing to Danny Sheehy of Hayden 9-2.
Konetzni then beat Edwards 9-4 to claim seventh.
"It was phenomenal," Sullivan said. "And it was all the kids. That's the only way I can say it. They played hard all year. Of course, they wanted to finish a little better individually, but what they were able to do took a true team effort."
More like this story