Sesquicentennial events growing
With five months before the big official commemoration, the De Soto sesquicentennial celebration keeps growing.
De Soto City Clerk Lana McPherson said two events have been added that will make Sept. 14 a big day.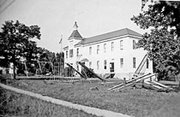 On that day, the "Pony Express" riders traveling from Santa Fe, N.M., to Independence, Mo., using U.S. Bureau of Land Management mustang relay ponies will make a stop at the De Soto Post Office, McPherson said.
Acting De Soto Postmaster Mike Mori said more information on the event should be available in about a month.
McPherson said De Soto was able to schedule the Pony Express stop because of a Native American powwow scheduled for that day in Miller Memorial Park.
"We needed to have something going on in town in order for the Pony Express to stop here," she said.
The impetus for the powwow was De Soto city shop mechanic Mike Henre and his son Chester Henre. As members of the Cherokee tribe, the two men had talked of bringing a powwow such as the ones they attend as members of the Indian Council of Many Nations. After McPherson was introduced to Richard Porch of the council, the two worked out an agreement to bring the powwow to Miller Park, Chester said.
Powwows are a celebration of Native American culture, Chester said, and a collaboration of singers and dances.
Those attending the powwow will see Indians performing a variety of traditional dances, such as men's grass dancers -- which grew from dances used to stomp down grass at new camp sites -- and newer styles, such as the men's "flashy" fancy dancers and women's jingle dancers designed to impress modern audiences, Chester said.
All the dances are performed to a beat laid down by drums and singers, Chester said.
Mike Henre said the De Soto powwow was being advertised and fliers would be handed out at two large powwows in the month before the local event.
"We could fill the place up," he said.
Chester was more cautious, but said he, too, was hopeful of a good turnout of spectators and participants.
"For Native people, powwows are like a holiday celebration," he said. "You always hope for a lot of people to share your celebrations."
The next scheduled sesquicentennial event will be the next in what has proven to be a popular lecture series on De Soto history.
The May event will not be a lecture but a tour of Abbott Hall on the corner of 83rd and Peoria streets, said Kathy Ross, who is organizing the lectures with Mary Guntert. The tour will start at 6:30 p.m. May 30.