Teamwork building blocks
Lego robotics teaches Starside students lesson in working together
Students at Starside Elementary School have joined others in the area competing to build and control a robot made of Lego toys.
A Lego robot team started in January for fourth- and fifth-graders at Starside. The class meets from 4 to 5 p.m. Thursdays at the school. The goal of the class is to learn to control the robots using a computer program.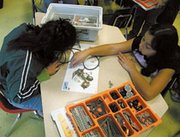 Fifth-grader Michael Buffkin has been learning how to make the robots move.
"You hook it up to the computer so the robot can get directions," Michael said. "The sensors on the front detect light, touch or sound."
Robots are connected to computers with a USB cable that can be used to download instructions.
Fifth-grader Connor Schimke said the instructions come from software that came with the robots.
"The program tells the robot to move around and we tell the program what we want the robot to do," Connor said. "Like the program will tell the robot to move around for 10 seconds or go forward until it hits the wall."
Club sponsor Sarah Dilday has 15 students in the after-school class. She said normally the class would work toward a competition where the robots compete to perform tasks in a certain amount of time. However, Dilday said the class got started late.
"We started in January so all of us could figure out how to use [the robots]," Dilday said. "It's amazing how savvy the kids are already. They don't mind going back if there's a mistake."
Dilday got the idea to bring the program to Starside after attending a conference last year. She said the next step was to get a grant for the project from Sprint and then get the students interested. She said since the class is after school, everyone attending is volunteering to be there, but the students have shown a high level of interest.
"When we first got the robots out, they were highly motivated and hard to keep focused," Dilday said. "When I see them in the halls on Thursday, they always make sure we have Lego club. I think their enthusiasm means the program is a success."
Besides learning how to operate a robot made of Legos, Dilday said the class offers students a chance to work together. It is an opportunity she said the students don't get enough of in school.
"There's very few jobs in the world where you aren't working collaboratively," Dilday said. "Part of this is about team-building and collaborative problem solving. They learn to count on each other."
The students chose to take part in the class after receiving information from Dilday.
Connor said it was an easy decision to participate in the class.
"When we heard about it, it sounded like a good experience," he said. "Legos are fun, and robots are cool."
More like this story