Tim Blankenship/Board race 2007
Position 1
Blankenship and his wife, Kim, have two children -- daughter Jessica graduated from De Soto High School last year and is attending Johnson County Community College. His son T.J. is a junior at De Soto High School.
Blankenship is a consultant for Parametric Technology Corporation, a product development software company.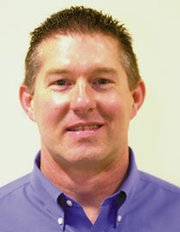 "I'm interested in education in general, and I want to do my part to help improve that," he said. "Math and sciences is near and dear to my heart, and I'm always interested as a taxpayer in fiscal responsibility."
Blankenship is originally from Chillicothe, Mo., and has a master's in electrical engineering from the University of Missouri at Rolla. His job as a solution master architect includes working with the National Aeronautics and Space Association.
He's a senior member of the Institute of Electrical and Electronic Engineers. Blankenship said the group gives charitable donations of software products for educational purposes.
Blankenship said he's been a guest lecturer at a few DHS math classes.
"That's how I've gotten involved in the schools," he said.
Blankenship said although he talked to board member Randy Johnson about entering the school board race, his ideas weren't necessarily aligned with those of the current board member. Johnson is part of a group, Citizens for Responsible Education, which campaigned to defeat the school bond issue. Johnson has said the group and his ideas for more responsible spending in the De Soto district will play a role in the school board elections as well.
"I definitely have my own opinions," Blankenship said. "I think it's important the district does the best they can to wisely use tax money."
Blankenship said he had no comment on his opponent, fellow De Soto resident Rick Walker.
"I'm just running to try to get involved and do my part," he said.