Sandy Thierer/Board race 2007
Position 3
Sandy Thierer wasn't sure she wanted to file for De Soto USD 232 Board of Education again until she talked to fellow board member Randy Johnson.
"He informed me that he is targeting my position -- in fact, it was that conversation that made me decide. I really was up in the air about whether I was going to run again," she said.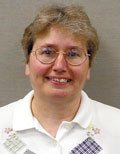 Thierer, who will have finished 14 years on the board by April's election, has been at odds with Johnson this past year over the bond issue. Johnson originally voted in favor of putting the bond issue on last year's ballot, then changed his mind and began a group "Citizens for Responsible Education" to defeat the De Soto school bond issue. Although no one can say for sure that Johnson's group was solely responsible for its defeat, Thierer and other board members have expressed concern over Johnson's change of heart.
Johnson, who said he changed his mind because of concern over district spending, also said he would be encouraging members of the community to run for school board during this election.
Thierer joins fellow incumbents Rick Walker and Don Clark in filing for re-election to the board. Bill Waye, another longtime board member, is undecided whether he will file for re-election. The deadline to file for board members is noon Jan. 23.
hierer serves on the board of directors for the Kansas Association of School Boards and said her position could strengthen De Soto's ability to influence policy.
"It also offers us an opportunity to participate in national school board organizations," she said. "I'd like to continue that work."
Thierer said she wanted to continue working to improve De Soto's curriculum, with more opportunities for students taking advanced classes and special education.
Although the boundary discussions provided plenty of controversy for board members this winter, she was pleased to get feedback, Thierer said.
"I think the boundary discussion has given us some perspective on some things that we could do in the Shawnee area a little bit differently," she said. "The overcrowding isn't going away."
After nearly 14 years of service, Thierer had some words of wisdom for any community member wanting to serve as board member.
"Don't come in with an agenda of 'I'm going to change the world' because you can't unless you convince three other people that you have the best idea. You should come in there as an advocate for education," she said. "That's the most important thing a school board member can do -- be responsible for education and be fiscally responsible for a taxpayer's dollars."
More like this story