Jim Thomas/Board race 2007
USD

232 Position 2 candidate
As in the past, he would look to the district's strategic plan when making decisions, Position 2 candidate Jim Thomas said.
"That represents the will of the district," the Shawnee resident said. "It took a robust effort and quite a well-developed plan. I think that the board is compelled to implement and make decisions in concert with that strategic vision."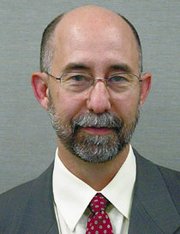 As a former board member, Thomas said he wouldn't second-guess the board's decision on the boundary changes. He knew from experience those were tough decisions requiring many considerations.
And although Thomas said he would be open to consider larger schools he remained convinced "smaller are better." He would not support high schools larger than the 1,250-student capacity Mill Valley High School would have grown to had the November bond referendum been approved, he said. Although it was difficult to draw a definitive cut-off point, he said he would be reluctant to endorse enlarging elementary schools far beyond a 550-student enrollment capacity.
"Again, that's the standard I've supported and what was in place," he said. "If you get much bigger than that you start compromising the education of the students."
Thomas is in marketing research with a doctorate in psychology. He served on the board from 1999 to 2005. During that time, he consistently supported what was best for students and the district overall, he said.