Bob Dyche/Board race 2007
Position 2
Position 2 candidate Bob Dyche of Shawnee supports a growth management strategy of expanding existing district schools. He learned in January his two youngest sons would attend the new Horizon Elementary School instead of Clear Creek. Because of the distance and need to cross Shawnee Mission Parkway, that means they will have to ride the bus, he said.
He's running because he wants to be more directly involved with his three children's education, Dyche said. An assembly line worker for General Motors and former financial officer for his union, Dyche said he understood the value of money and how to keep track of how it was spent.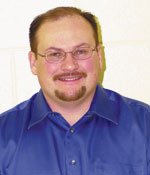 In addition to expanding schools, he wanted to learn more about the district's process of awarding bids to build new schools, Dyche said.