Bill Fletcher/
USD

232 board race
Postion 3
The decision of Bill Fletcher to file against incumbent Sandy Thierer for the Position 3 seat ensures a general election campaign for that seat. Fletcher is not new to local education issues, having served on the Kansas City, Kan., school board.
"It was 25 years ago," he said. "I resigned when we moved to De Soto."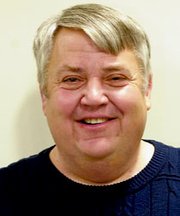 In reference to his opponent Sandy Thierer's comment that she was running for the board because fellow board member Randy Johnson suggested members of the Citizens for Responsible Government would seek the seat, Fletcher said he had no connections to any organization and would run an independent campaign.
"There's a lot of positive things in the school district," he said. "I want to be positive on the campaign. I just think there are things that can be improved."
One of those things is the district's east/west split, Fletcher said. As a resident of De Soto with a business, S&F Mowing, that does most of its business on the district's east side, he could help patch the rift, Fletcher said.
Taxes were a concern, Fletcher said. The board needed to look for cost savings everywhere, he said. But the father of two school-teaching daughters -- one in the De Soto district -- also said the board should take steps to increase teachers' pay so quality educators didn't move on. He suggested the district could do away with steps in its teacher pay schedule so teachers could advance to the top of the pay scale faster.
As for the next bond issue, the district did need new schools, Fletcher said. But he said each project should be subject to contractor bids and that the winning contractor be accountable for delivering what was on the set of plans. That could eliminate approving change orders that add to building costs, he said.
More like this story