It doesn't matter that she's surrounded by teammates on all sides and family and friends in bleachers behind them. Sometimes the pitcher's mound can be lonely, De Soto junior Jessica Pennington said.
It is isolated, both geographically and emotionally. All alone in the middle of the field, Pennington starts every play with a quick swing of the arm and she ends every play by catching the ball and preparing for the next pitch.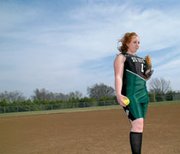 All too often last year that second part came only after mistakes -- both her's and her teammates' -- allowed runs to score or runners to advance. Every eye in the stands and all those in either dugout focused on her before and after every play, all eyes focused on her as the De Soto girls softball team let run after run, inning after inning and game after game slip away.
The Wildcats finished with a dismal 3-18 record a year ago, and Pennington said sometimes it was dreadfully hard to keep going.
"It was frustrating. A lot of it was just as much my fault as anyone's," Pennington said. "We all made a lot of mistakes, and it was lonely sometimes. It was just frustrating a lot of the time.
"I'll never say I wasn't frustrated to the point where I thought about quitting, but I'd never do that. I love being on the mound and playing softball."
Softball pitchers enjoy a unique spotlight in that a great one can dominate the game the way only the baseball legends could. Pennington is unique again in that she doesn't dominate like that. While the best blow strikes past batters like cars on a freeway and use an assortment of rising and sinking pitches to notch strikeouts by the dozen, Pennington pitches like a surgeon.
She has four pitches she said, including a fastball that "isn't that fast" and a riser ball she is still coming to grips with. Her favorite, however, is the change-up. She's better at out-thinking a hitter than out-muscling a hitter, sneaking a pitch past rather than blowing it past.
In a game of Roger Clemens', she strives to be Greg Maddox.
"I'm working on getting faster and stronger, but that's just how I pitch," Pennington said. "I focus more on spots and changing it up and that's been successful for me.
"I think about it a lot (on the mound). I try to change it up and keep them on their toes. That works better for me than just trying to pitch as hard as I can, because that's not very hard."

The worst part, Pennington said, was when she wasn't effectively pitching, yet the only option was to keep going. She started throughout the season and pitched nearly 90 percent of the team's innings. Then-junior Meagan Bliss was the only other Wildcat that saw significant time on the rubber and moving her there removed one of the team's most sure gloves from third base.
Often times continuing wasn't a decision, it was a necessity. Talk about feeling lonely on the mound.
"I knew if I didn't do it, there wasn't one person who could come in and do it. There wasn't anyone else that wanted to come in and pitch," Pennington said. "I'd love to be on the mound every game, but it was frustrating a lot of the time."
The terrible season, it wasn't all Pennington's fault -- not by a long shot. She said Tuesday the 3-18 record was the ugly brew of young and inexperienced players and some bad luck, that the entire team was responsible, not just her or any other particular player.
That's another thing about the way she pitches: her style could never find any success without the whole-hearted help of her teammates. The fire-ball pitchers seem as if they could go entire games without an infield, doing the damage with strikeout after strikeout. Pennington, however, puts the ball in play more often. That's fine until errors eat away at a good inning or balls just through a gap or just over a glove begin to mount.
It again makes Pennington unique from other softball pitchers -- she can never be better than the players around her. Her chain is as strong as both the weakest fielder and her worst pitch.
The team has improved in that regard, she said. The Cats return 80 percent of its starting infield from last season. The help she expects from this year's squad doesn't end there either.
Freshman Katie Williams will assume some of the pitching responsibility. Pennington is still likely to lead the team in innings, but she said she's looking forward to two things.
First, she doubts she'll have to account for 90 percent of the pitches thrown.
Second, she's confident that when she's having a bad day, Williams will be there.
"Having two will make us a lot stronger and mix it up more," De Soto coach Sissy Fletcher said. "Jessica has a lot of experience and she's just like another senior out there, so she'll be on the field even when she isn't pitching. It's really nice to have two, though."

Yeah, Pennington said it can be lonely, out there, all alone on the pitching mound, gripping the ball as the other team's fans roar. It has yet to steal away her love of the game, however.
The frustration of 2006 dissipated over the summer and many of the girls played in a light-hearted summer league. It went a long way toward healing the wounds and establishing a tone for the new year, Pennington said. With a better attitude and more experience across the board, she said standing on the mound won't be lonely again.
Pennington plays volleyball as well, but spent most of the season slugging it out on the junior varsity team. She doesn't play a sport in the winter and spent her summer working on that riser ball.
Softball is her time on the stage.
This season she's confident that it'll be Wildcat cheers echoing as she clutches the softball and a smile that splits her face as she prepares to pitch.
Lonely? Not necessarily, she said. Life can be sweet in the spotlight.
"I'm really excited," she said. "I love being out there on the mound.