Numbers crunch
Can you score too many goals in soccer? Doubtful, but five Wildcats are set on finding out for sure
There's no such thing as too many goals in soccer, so technically, there's no disadvantage whatsoever to the De Soto girls soccer team's predicament in the upcoming year.
Heck, that golden rule probably even completely rules out the use of the word "predicament."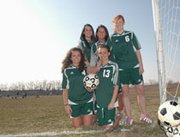 Whatever it's called, De Soto returning all of its leading scorers from a year ago and adding a player that could easily be one of the best of the bunch could create issues. Two weeks into practice and still nearly three weeks out from the first game, the Cats are hoping issues are as rosy as they sound -- how can so many prolific, hardened and experienced scorers take turns in the spotlight?
It's easy, junior Julie Bray said. The team wants to win and more talent can only help lead the way to the ultimate goal.
"It's not about everyone getting goals, it's about everyone showing what we have," Bray said. "We want to go to state and we need to win regionals."
De Soto would have offensive punch if only junior Nicole Radcliffe was returning from last year's team. Radcliffe is the third-year program's all-time goal leader with 24, and she led the team last year with seven.
And she's improved, Erpelding insisted.
The Cats had tremendous offensive potential at the start of last season when now-sophomore Danielle Price joined the team. She finished the year with five goals.
They even improved upon "tremendous" scoring potential when now-senior Jenni Hill came into her own toward the end of the season, tying Price for second on the team with five scores.
Add in the season the coach said he expects from Bray, who has four career goals, and scoring should be the last thing for Erpelding to lose sleep over.
Finally, add in soccer-fanatic freshman Carly Stanley, a player so gifted Erpelding warned he didn't want to say too much to build pre-season expectations after he said "she hasn't played a minute yet, but from what she's done in practice she's going to score a ton."
You know that old joke about boring 1-0 soccer matches? Yeah -- not with this bunch.
"I'm really excited for this season," Price said. "We've added some great new players for our team. I'm more comfortable and I think we're going to do really well this year.
"We're going to put the ball in a lot because we're bringing a lot of people back, those people are better and worked hard in the offseason."
De Soto hopes to build upon its second consecutive 8-6-2 season in its third year of existence. What Erpelding had on the first day of practice may go a long way to making that a reality too. The Cats, who open their season March 27 at home against Gardner, graduated a number of key players over the offseason, but return many fire-starting components.
Radcliffe leads the way. Long a soccer fanatic herself, she upped the stakes over the offseason by playing in the summer, the fall, and even in a winter indoor league. She was the team's go-to scorer a year ago, but Erpelding said she's elevated her game by doing more than just improving her skill.
She improved her off-ball maneuvers and has ramped up her tactical knowledge of the game.
"It's got flash, it's got finesse and it's gotten so much better," Erpelding said. "She has such a better understanding of the game, of angles and runs and where to be. It's all showing on the field.
The story's the same with Price and Hill. Both played extensively in the club leagues over the summer, and both look to improve upon their goal totals from last season.
Both, along with Bray, thrive off their speed. While the team lost priceless senior leadership and intangibles over the offseason, it gained potential, speed and skill.
With Hill, the speed has even another level, and that's what makes her pop out. Though she missed the last week of practice on a trip, Erpelding said she has the raw talent to triple her goal number from a year ago.
"Her speed is something you can't teach," he said. "Once she gets the finishing down, there's no reason she can't have 15 goals."
The Cats return plenty of experience on the defensive side as well. Erpelding said Katie Beck and Ashley Williams offer aggressive mindsets despite their defensive positions, attitudes that should fit perfectly with the five scorers.
Megen Bedford will return to play goalie, and she too has developed into a reliable stopper, Erpelding said.
"Add in Nicole and Danielle and Julie, and it's all starting to come together. They're all starting to get it," he said. "There's times when I'm watching us scrimmage that I get just so excited.
"It's starting to happen."
And Stanley hasn't even played a minute yet.
"I've been playing soccer since I was eight," said Stanley, who added that her career high goals in one game is eight. "I like to score, but I like feeding the balls off for others to score, too. I'll do whatever I need to do to help us win."