Bulldog devotion
De Soto residents' commitment to breed includes show circuit, advocacy
Puppy love grew into a lasting love affair for Bev Larrick and the English bulldog.
"Back in 1983 when my husband and I were looking for a pet, once we saw the puppies we were hooked," Larrick said.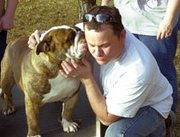 Fellow De Soto bulldog enthusiast Cheri Schuler traced her fascination with the breed to a similar encounter.
"There's nothing cuter than a bulldog puppy," she said.
Larrick and Schuler have acquired more bulldogs since getting their first puppies. Their love of the breed has led Larrick and Schuler to join the Heart of America Bulldog Club, show their dogs at shows and work to advance understanding and improvement of the breed.
After getting the family's first bulldog, Buddha, four years ago, Schuler made a commitment to become more involved with the breed.
"I went to a dog show with a friend," she said. "I came home and told my husband, Jason, 'This is what I want to do.'
"About seven months later I bought my first showgirl."
Schuler said she also introduced herself to Larrick, who got her first bulldog in 1983 and has been showing since 1994. Larrick is one of her family's three mentors, Schuler said, who has given them tips on such aspects as showing and breeding bulldogs.
Her first shows where with her female puppy Chesney, the Schulers made showing bulldogs a family hobby. They travel from Minnesota to Texas showing their pets in shows limited to bulldogs and those open to all breeds.
"I love showing," Schuler said. "A dog show is something the whole family can go to and enjoy."
The dogs enjoy it, too, Schuler said.
"They get excited when they see me get out their leads and grooming supplies," she said. "They start heading for the door. If they didn't like it, they wouldn't go through it."
Training the dogs for show starts early, Larrick said.
"Dogs love to be disciplined," she said. "They need to know someone is boss.
"We start working with them when they're eight weeks on how to stand, stack (strike poses) and move around. They learn it pretty quickly. Bulldogs are pretty smart, and they emulate what the other bulldogs are doing."
It is an expensive family hobby, Schuler said. It costs from $17 to $30 to enter a dog in a show, and then there is the on-the-road expenses of food, lodging and fuel. To cut down on that, the Schulers are preparing to buy an RV, she said.
There is no prize money for finishing high, Schuler and Larrick said. Dogs in the show compete for ribbons, trophies, name recognition and earning a dog the designation of champion.
Larrick has had three dogs earn that sought-after title. To do so, the bulldogs earn 15 points with at least two major wins of three or more points awarded by two different judges.
She has a young female that is well on its way to joining her other champions after earning five points in a recent show, Larrick said.
The champion title would make the dog's puppies worth from $1,600 to $2,500, but Larrick said that was not her interest.
"Those who show, I think, breed responsibly," she said. "They are responsible about how often they breed and what they do with the puppies."
The goal of responsible breeders is to place the puppies with good owners who will show them and, thus, enhance the breeder's reputation, Larrick said. She has only sold two puppies in her more than 20 years of owning bulldogs and has no interest in more, she said.
It is very difficult for bulldog bitches to have a litter, Larrick said. Puppies are often delivered by Caesarean and young puppies require a lot of care, she said.
Schuler said she limits their dogs to three litters and quits breeding them when they become 5 years old.
It is only one of the traits of the breed that makes them high maintenance and sometimes too much for those who rashly choose a puppy, Larrick and Schuler said. Bulldogs need grooming to assure they don't develop infection under their wrinkles, can't tolerate hot outside weather and have trouble with their legs.
That and the fact that cute puppies become very rambunctious 50- to 60-pound adolescents hard on furniture and young children before maturing into laid-back adults often have many second-guessing their decision to own a bulldog. To address that, the Heart of America Bulldog Club works to educate the public on the breed and find suitable homes for bulldogs needing new homes, the two women said.
For Schuler, the challenges are easily outweighed by the bulldog's affectionate nature.
"They're laid back; they are great family pets," Schuler said. "They are great with kids. For someone who doesn't get out a lot or exercise a lot, they're the perfect pet.
"I'll never have any other dog."