Summer starters
Cats hope to take advantage in annual 7-on-7 league
It's all downhill from here.
OK, maybe that's not exactly true, but with the De Soto football team's regular summer camp out of the way and last week's trip to the team camp at Pittsburg State a memory, only the annual 7-on-7 drills remain on the Wildcats' summer football itinerary.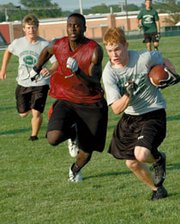 So far, so good, De Soto coach Brad Scott said.
"Any time we get opportunities to get out and play and to run routes, it's great," Scott said. "It's hard because you don't really play football this way, but it's good to get the players going and get them in some situations and competitive sports to see how they'll battle for the football. In that regard, we really liked what we did."
In its first semi-official public appearance since two-year starting quarterback Jake Morse transferred from De Soto High School, the team didn't provide an official answer to its biggest question.
Official answer, no -- semi-official, maybe. It was evident senior-to-be Erik Hill had a leg up in the race to be the next quarterback. Hill tortured teams from his tight end position a year ago, leading the Cats with eight touchdowns, and finishing second with more than 450 yards receiving.
Taller and thicker than Morse was a year ago, Hill didn't try and thread passes through the coverage in the passing drills. Rather he repeatedly leaned back and gunned it deep, throwing over the coverage for several scores.
Hill wasn't the only one glowing in the evening sun. Shane Miller played well, catching several passes and grabbing an interception. Scott said the real benefit came to De Soto's younger players.
The Cats are hosting the 7-on-7 league for the second consecutive season, and again this year they are taking full advantage.
Four separate teams of De Soto players scrimmaged at least some Monday. A team of eighth-graders from Lexington Trails Middle School joined squads of freshmen, sophomores and the regular varsity team.
"It's huge for our younger kids," Scott said. "Their younger kids are sitting at home playing X-Box while ours are out here getting better. That's something we like to do, and it's why we feel we're getting better. That's really going to help in the future."
As for the immediate future, Scott said that depends on how well his leaders use the remainder of their school break. De Soto typically builds up to its local summer camp, parlaying it into a last hurrah before regular practices start in mid-August.
That wasn't an option this year, however.
"We moved our own camp to the beginning of the summer because of losing our quarterback and we wanted to retool some things at the last minute," Scott said. "We decided we wanted to do that before we went to Pitt State."
The camp at Pitt State, which wrapped up Friday, also went well, Scott said. He was looking for leaders, and that's what he found.
"We've had a great summer so far," he said. "We learned we had a few kids that wanted to step up and be our players. We also realized we had some things to work on, so it's nice for us to get back here, get healthy and get into the weight room.
"This (7-on-7) continues what we've been working on, so there's not a drop off. I'm interested to see how our kids respond."