De Soto 4H'ers stitch neckwear to cool Iraq soldiers
Members of De Soto's Pioneer 4-H Club are doing their part to keep soldiers cool as they cope with Middle East heat.
On Tuesday, about 25 people, including 4-H members and their parents, created 100 cool neck wraps for soldiers in Iraq.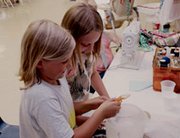 The wraps were made with a small strip of sand colored fabric to match the soldiers' fatigues. They were then sewn together to hold polymer beads, which when soaked in water will retain it and stay cool for up to two days, 4-H parent Cynthia Prowell said.
The club's goal is to make 100 wraps for soldiers and send them overseas next week. Members also started making 100 wraps to sell at fairs and De Soto Days as a fundraiser for the club.
Prowell was one of the parents who came up with the idea to make the wraps after seeing them sold elsewhere.
"We have some that we bought at craft fairs in the past, and we thought it was a neat thing to have in the summer," she said. "I started doing research on the Internet for how to make them, and I found that other groups had sent them over to soldiers as well."
The wraps went through a small assembly line where they were cut, ironed, sewn, flipped right side out, ironed again, filled with polymer beads and sewn up to be completed. Children and parents worked together on the assembly, but most of the children were sitting at a table flipping the fabric right side out after the initial sewing. A handful of others were filling the tubes with polymer beads or practicing their sewing skills.
Eight-year-old Amanda Gulley, 8, was filling the wraps with polymer beads, which she said was her favorite activity.
"It's just pouring stuff," she said. "It's easy."
Prowell's daughter Sadie Prowell, 8, was at one of the sewing machines. She had previous experience sewing hats, scarves and pajama pants for herself and for her American Girl doll.
"I'm not a pro, but I'm sort of good," Sadie said.
Prowell said the project also served as a community service event for the club, allowing members to accumulate community service hours.
Overall, the wrap project served three purposes, Prowell said.
"It was a way to practice the sewers, tell the troops we want to support them and collect funds for other projects," she said.
Prowell said right now the wraps were going to a general address for soldiers in Iraq, but she was hoping for something closer to home.
"I have a lead on a local person who is home on leave and I am trying to get information from that person to send it to troops they might know who are still over there," she said. "It would be nice to keep that De Soto connection if we can."
More like this story