Mowing funds pay for parts, paintball
Gloomy, rainy weather in De Soto Monday meant no work for 16-year-old Brian Murdock.
Brian mows the grass for his parents and his neighbors in order to earn some extra cash.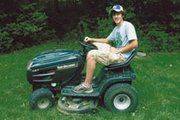 However, business is a little slow this year.
"I did lawns around our neighborhood for the last two years, but now their kids are getting older and doing it so I just do ours and another neighbor's," he said.
Because the yards are somewhat large where Brian lives off of Ravenswood Lane, he uses a riding lawn mower. He also uses a weed eater to trim around the house. His going rate is about $25, but for larger lawns he charges $30.
"It's an easy way to make money," Brian said. "It's not too hard of work and you can get fairly good money for it."
Like other teens, Brian uses the money he earns to have fun. In his case, he plays paintball.
"It's a pretty expensive sport," he said.
One weekend of paintball costs Brian about $70 because of the field fee and the paintballs. He tries to go about every other week.
What he's not spending on paintball he spends on parts for his 1984 GMC Sierra Classic truck. The rest he saves for college. Brian plans to attend Kansas University and is considering becoming a pharmacist like his mother or possibly doing something in music. But he still has a few years to mull it over, as he will be a junior at De Soto High School in the fall.
Soon Brian will balance another job with his lawn care duties. He just got a job at O'Reilly Auto Parts in Bonner Springs, which for Brian means more money for paintball.
More like this story