Library nurtures young Frankensteins
Children at the De Soto Library Friday learned basic science with a fun twist.
Mad Scientist Laser Leah showed more than 60 children and 26 adults how to fit a hard-boiled egg into a beaker, explained how a strong enough air current can hold up a beach ball and taught them about dry ice.
"The goal for Johnson County Libraries this year is science, so we try to have a science twist or bit with all of our programming," said Carolyn Basinger, part-time children's librarian.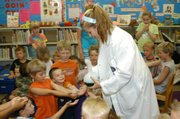 The event was the first of the De Soto Library's summer programming for children on Fridays.
Basinger said it was the biggest crowd she has seen at one of the programs.
"Parents are looking for something fun and free to do," she said.
Laser Leah, otherwise known as Leah Gunn, has been a Mad Scientist for Mad Science of Greater Kansas City for six months. Gunn is majoring in accounting at Johnson County Community College and has background in improv, which is how she got started.
"It's just fun to work with the kids," she said.
Mad Science of Greater Kansas City began in 2002 and is part of a larger nationalcorporation. The company provides science education and entertainment for birthday parties, in the classrooms and at other educational events like those at the library.
Four-year-old twins Nicole and Elizabeth Schottler said they had fun when they got to pop bubbles.
"We love bubbles," they said.
The De Soto Library will feature "Whodunnit?: Mystery Stories with Priscilla Howe" at 10:30 a.m. Friday.
More like this story