Busing need
Local transit program deemed success after year in operation
Riding on the Johnson County Transit FlexRide bus Tuesday, Carline DeLozier made a request of driver Jackie Brownlee.
"Could we drop by the pharmacy on the back from Wal-Mart?" DeLozier asked. "I want to drop my prescriptions off so I can pick them up tomorrow."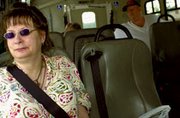 True to the first syllable of the FlexRide name, Brownlee had no problem with the request. De Soto Multi-Service Center director Jodi Hitchcock insisted last year as part of the committee that developed the FlexRide proposal that flexibility would be key to the program's success.
One year ago this week, the wheel-chair accessible green bus started visiting the city two days a week, running a Tuesday route from Clearview City to the De Soto Library, De Soto Senior Center and grocery store and on to Shawnee Station and a Wednesday route limited to the De Soto stops.
But as DeLozier's request indicates, the bus doesn't adhere to a fixed route. Those calling ahead can schedule curb-to-curb service that can pick them up at the door and take them to a destination within the service's De Soto to Shawnee range.
"We can go to a doctor's appointment, drug store, Wal-Mart, even the vet," said Wayne Loglisci, who was riding the bus Tuesday from his Clearview City apartment to the Senior Center.
A recent stop at the veterinarian was at DeLozier's request.
"They told me if I brought my cat in a carrier fully contained as long as I can carry in on and off by myself, I can bring it on the bus to take it to the vet," she said.
"I don't have a car. My relatives live in Lee's Summit. So it's hard for them to come take me somewhere."
Riding the bus Tuesday to Shawnee, Clearview City residents Raymond and Becky Hixson are in a similar situation. They have a car, Raymond said, but he could no longer drive. Moreover, his son uses the car to get to work.
"This works out for everybody," he said.
That was the goal when the program started a year ago, Hitchcock said.
"I'm thrilled with it," she said. "It's fulfilling a safety net we never had before. We have people here in town who literally have no other way to get around -- going to the doctor's office, going to the grocery store, going to my office.
"And think of the independence it allows them to have. Instead of asking a friend, neighbor or relative for a ride for the thousandth time, they can take the bus. It really is a quality-of-life issue."
Brownlee said she expected eight to 10 riders before her three routes were finished Tuesday, which was a bit more than she usually averaged.
FlexRide is a joint program of the city of De Soto and Johnson County Transit. The city provided a $10,560 subsidy for the program in 2007 and the county provides the equipment. The program also receives support from the Mr. Goodcents Foundation.
Mayor Dave Anderson said the program was working for those who used it but that the city needed to market it better.
"People need to take advantage of it a little more," he said. "It's really a great beginning for transportation in our community."
More like this story