A plan comes together
City's new planner wants career in small towns
When De Soto City Administrator Pat Guilfoyle and city engineer Mike Brungardt started looking to replace recently departed city planner Kim Buttrum, they were certain the city couldn't afford another certified city planner so they agreed look for someone to perform just the position's secretarial functions.
The scaled-back search meant the city would contract once again with an outside planning firm, a practice that was discontinued two years ago as Buttrum neared the completion of her master's degree in city planning from Kansas University.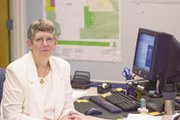 To their surprise, one of the applicants for the "planning coordinator" position listed in the advertisement proved the two men wrong. Linda Bohnsack, who started as the new city planner last week, not only has the education but experience with Leavenworth County and the city of Tonganoxie.
For her part, Bohnsack saw the position as a chance to get back to her small-town roots.
"I really enjoy rural or small town planning as opposed to big city planning so when the job came open in De Soto I was attracted to it," she said. "The job description offered me a chance to do what I had been doing and learn some new things."
Bohnsack went to KU as a non-traditional student in the early 1990s, earning first her bachelor's degree in architectural studies in 1995 and a master's degree in urban planning in 1998.
The degree program might be named "urban planning," but Bohnsack said her interest, once again, was in working with smaller communities.
"In small towns, it seems like you have the very real opportunity to get involved in so many aspects of the town," she said. "Planning gives you the chance, the opportunity to make a difference you don't have in other fields except maybe city administration, but that's too political for me."
Once she earned her master's, Bohnsack went to work for Leavenworth County in 1998. It was a position that had her working for the city of Tonganoxie two days a week and the county the other three. She then spent from 2000 to 2002 as the Tonganoxie city planner when that city decided to hire a full-time planner and then returned as a full-time planner with Leavenworth County until this March.
While with Tonganoxie, she helped with the revision of that city's comprehensive plan, developed a site plan review process and design guidelines for its downtown improvement project, Bohnsack said.
That experience, plus that gained in day-to-day planning application process, is now at the disposal of the city. But Bohnsack said another attraction of the job was the chance to grow professionally.
"There's also new things like administering the city's Community Development Block Grant, writing grants and working with the city's mapping system creating and printing maps," she said.
Bohnsack, who lives in Leavenworth with her husband, Donald, said De Soto seemed to be well prepared in the planning arena.
"I'm pretty impressed with the comprehensive plan," she said. "I think that it is very good. It seem like De Soto is on its way to taking its place in the metropolitan area. It just needs to monitor that to make sure it continues to grow as the city and its citizens want it to evolve."