At first he only knew he wanted to work with people, to help, and he admitted, to hear himself talk.
The other revelations -- that he actually wanted to be a teacher, and that science would be his field of choice -- came later and well after he had already settled on that first step: he wanted to work with people.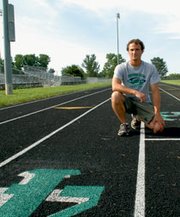 At the root of it, that's what powers Peter Harley and his pole vault team. He's working with people. He loves it. There's some science mixed in and plenty of teaching, but what's launched the 28-year old De Soto High School science teacher on an unforeseen quest to master pole vault is the people.
In the building
Harley is self-diagnosed obsessive compulsive. He said a walk through area woods with him -- and by default the dog, Bailey, which he shares with his girlfriend of eight years -- can range from entertaining to educational, interesting to simply nauseating as he points out and comments on everything in sight. He recently bought a field guide to area medicinal plants and herbs, complementing what was already a thorough knowledge of the region's plant and animal life.
He dedicates himself thoroughly to projects big and small and said the smallest details of those keep him up, pacing late at night. But before he stumbled into position as De Soto's pole vault coach three seasons ago, he'd never done anything like this.
Since then, it's pole vault that's became all consuming -- the outlet for his attention to details, his desire to do everything a little better, and first and foremost, his relationship with the kids.
Harley had, of course, seen pole vault before three years ago. He did most of his growing up in Alaska, but took quickly to track and cross country when he moved to St. John, Kansas as a high school junior. There, he joined a small but consistently good team, and for the first time considered teaching, and in the back of his mind, coaching.
"We got second at state, and I remember what was so motivational was that our coach ran with us," Harley said. "He wasn't just this guy barking orders."
That provided the template for how Harley has run his segment of the track team. He's been involved.
He didn't know anything when he started. Head track coaches Chris McAfee and Brian Dinkel approached him to fill the spot, reminding him that while he didn't know anything about pole vault, neither did anyone else in the school.
"We preferred to have someone within the building and Peter said he had no previous experience, but he'd be willing to learn," McAfee said. "It can be an eye opening to get into that stuff and you don't realize how difficult an event can be. He knew he'd have to work hard."
Harley was teaching physics and freshman-level science courses at the time, so the whole mathematics of pole vault wasn't entirely lost upon him. That, however, might not have come across on the first day of practice.
"The first practice with him was indoors," said Riley Day, who was a sophomore when Harley first took over the team. "He got us into one of the classrooms and drew a brilliant picture of a pole vault pit on the white board."
How far have Harley and his vaulters come? That he did more than simply draw a pole vault pit this spring is a promising sign. Other strong indicators: 20 kids lined up to vault this season, so many Harley had to cut five; the girls school record has been broken each of the last two seasons; and finally Day himself offered the most promising sign, becoming Harley's first vaulter to qualify for state.
He's gone from clueless about the sport to an expert ... well, at least he now knows more than the kids he's coaching. He's constantly picking new information up. He now vaults himself, carrying on the lesson he learned from his first cross country coach. He watches video and reads books, and later this month will attend a five-day camp at Kansas University.
"As a head coach, that's what you hope for, that the assistants will be the head coach of their event area and they take a tremendous amount of pride and interest in it," McAfee said. "That's what he's done. You hope for that, but not everyone is always on the same page.
"Whatever our expectations were, Peter's gone above and done an awesome, awesome job."
Harley's nosedive into pole vaulting hasn't been limited to the spring after-school hours, either. In addition to the camp later this summer, the group is planning a car wash, one of three fundraisers the squad is using to buy new poles and equipment.
And along with it has come the requisite and so desired work with people, Harley said. He spent De Soto's home track meet running around in the rain, doing his best to salvage the food from the team's luau-themed party set up near the pole vault pit. It's a tradition Harley inherited, and one trumpeted by Day and the rest of the vaulters and eagerly anticipated by competitors from other schools.
He broke down when trying to talk about Day, a senior, during the track team's post-season dinner, and said cutting the five potential participants early in the season was one of the hardest things he's done.
He's a teacher first, his love of biology and science still bottling the majority of his focus and imagination, and he has no desire to ever be anything more than the pole-vault guy. In that role, he's thriving.
"When I first started teaching, I wanted to dive into all this content because I got really good grades and was really academic," he said. "Somewhere in there I learned that I wasn't teaching science to students, I was teaching students through science. I learned to fall in love with these people I worked with because we spend more time with them than their parents do and they become a pretty big part of your life.
"You can't spend that many hours with someone and not become attached to them and not want them to succeed and do well. Yeah, you're willing to do the extra things because they become your friends. The people that I had, the teachers that meant a lot to me were the ones that I had took the time for you and allowed you to become a part of their life. I think it'd be impossible for me to not get so involved with these people."