LTMS

project heads

USD

232 list
Students at Lexington Trails Middle School will find their classrooms more comfortable when they return to school in August.
De Soto USD 232 is putting in four new rooftop heating and cooling units.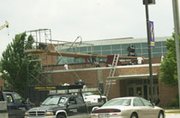 "It's replacing the older units that we've had for 18-20 years," said Denis Johnson, district facilities director.
The variable air volume system puts a thermostat in each classroom, creating more control over the temperature of an individual classroom. Before, classrooms were zoned and would share thermostats, which doesn't always provide an equal temperature because it doesn't account for the temperature level in each classroom. Classrooms with more students would get hotter faster.
"Now some of the higher volume classes are going to be more comfortable because the cooling system will kick in," Johnson said.
The new system cost the district $541,000 and is the big project for the summer, Johnson said.
Lexington Trails also is getting a new section of roof over the auditorium for $110,000.
At De Soto High School and Starside Elementary School students will see changes to the sidewalks and curbs when they return to class. Johnson said the changes were desperately needed.
"The sidewalk that goes into the commons area on the north side at De Soto High was in pretty bad shape," he said. "It was starting to become a safety issue."
Other projects are going on in other parts of the district as well, including a new paint job at Mill Valley High School and sidewalk and curb repair at Monticello Trails Middle School.
Custodians also will clean each building from the top to bottom to get schools in top shape for when students return, Johnson said.
"They will start at the ceiling and clean every room in the building," he said.
This year's summer project list is nothing new to the district.
"This is the kind of thing we do every summer," Johnson said. "We try to get parking lots recoated and buildings repainted on a regular maintenance schedule."
Improvements are part of the 20-year long-range capital outlay plan, which maps out what projects should be completed on a rotation.
However, the list of projects each summer is getting bigger, Johnson said.
"We're getting more buildings and some of the buildings are getting older, which means they need work more often," he said.
The list of district buildings grew by two this year.
The district's two newest buildings, Mill Creek Middle School and Horizon Elementary School will open this fall. While Mill Creek work is mostly complete, Horizon is behind with muddy work areas surrounding the school.
"The rain is hurting us on our site work at 71st Street," Johnson said. "We have still not been able to complete our road site work, but the building is coming along."