Computer wizard provides wired ministry
When the De Soto Youth Ministries' lighting system started to go out in spring 2006, co-founder Bill Wilting thought that he would have an expensive project on his hands.
A commercial system would have cost more than $2,300.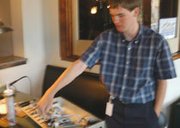 However, Aaron Duerksen, one of the teens who attended, had an idea that improved the lighting system and made it possible to run it from the computer, while saving the group about $2,000 -- or about the cost of a plane ticket to its planned August mission trip to Brazil.
"When Aaron noticed it starting to go out he said, 'Well I can rebuild it,' but then he started explaining a dream of his to me and honestly I didn't think it would work," Wilting said. "Aaron tends to speak a different language than I do.
"This is probably the most ambitious project that he has taken on."
Duerksen worked the sound and light booth for De Soto Ministries before he left for college, so he already knew how everything worked before it initially broke.
"I got to thinking, 'I could probably fix that,'" Duerksen, 19, De Soto, said.
So Duerksen got started. At first, he attempted to fix the system that already was in place. After that didn't work, he had a new plan -- make a new system that runs with a computer program so that all of the lighting adjustments don't have to be done manually.
Duerksen worked on the project for the next year. Even when he went off to college at Kansas State University he continued putting it together during his free time in his dorm room. It was a task that confirmed his roommate's impression of him.
"I think he almost had written me off as a nerd before and then he was like 'Yep, he's a nerd,'" Duerksen said with a laugh.
Computer savvy
Duerksen is no stranger to programming and wiring. He was on a home school robotics team that went to nationals for the Boosting Engineering Science and Technology Robotics competition.
When he was about 8 years old, his dad purchased a Lego Robotics Invention System. Although it wasn't specifically bought for him, he started playing with the system and learned how to do simple programming.
"I think it was something for my dad to play around with," he said.
From then on, Duerksen knew he wanted to be an engineer, just like his dad.
While in home school Duerksen took enough college courses to put 48 credit hours under his belt before he ever went to K-State where he majors in computer engineering.
Each summer since his junior year of high school he has been an intern at Garmin International, the Olathe-based company that is well known for programming Global Positioning Systems that consumers can mount in their cars as well as its navigation and communications equipment for aviation.
And when Duerksen returns to K-State in the fall, he will be a junior although it will only be his second year on campus.
The big finish
Last week, Duerksen put the finishing touches on his project. Now the person in the light and sound box can use the computer to direct the lights during a service. For instance, there is a cue that will dim the lights when showing a video or the words to a song, and the program is simple enough that it doesn't take long to learn.
Wilting said the system would prove useful for some of the things he hopd to do in the fall and winter, including concerts and the annual fundraiser Christmas at the Crossing.
"In conjunction with Christmas at the Crossing that night I'd also like to do a Christmas drama and then for the next three nights we'd actually like to do that Christmas drama open to the public," Wilting said.
Although it is complete and working, Duerksen still has some changes in mind for the system, including adding the disco ball lights and the steam machine, to the list of things the computer can control.
Overall, Duerksen's project is seen as a blessing to the group, co-founder and vice president Donna Wilting, said.
"Most of the time God uses mature adults to bless De Soto Youth Ministries, but sometimes he uses teens in unusual and dramatic ways to give back to the ministry," she said.