Teens had a chance to make wallets, purses and even flip flops Friday at the De Soto Public Library -- and they could make it all out of Duct Tape.
The library featured Duct Tape Manufacturing from 10:30 to 11:30 a.m. and offered how-to books and guidance for several different projects that all listed the main ingredient as the do-it-all tape.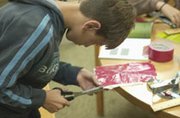 Recently, teens across the nation have caught on to the trend of making items out of Duct Tape. The event has grown so popular that each year Henkel Consumer Adhesives Duck Brand Duct Tape "Stuck at Prom" Contest offers a $3,000 scholarship to teens who create the best prom attire made completely out of Duct Tape.
Despite the popularity of the Duct Tape craft, only two children showed up during the first half hour, and they were in the library by chance.
"I was just coming to the library and saw it," said Jay Wilson, 14 and an eighth-grader at Lexington Trails Middle School, as he finished up his Duct Tape wallet. "I was bored. It did look cool. People have these wallets at school."
He chose to keep his wallet simple and opted for a design without slots for cards. And despite the many different colors of Duct Tape the library made available, he chose the basic silver hue that is common in many households.
Jay was at the library with his friend David Grisafe, 11, of Baldwin who was spending the night.
When the boys first began with their wallets David wasn't optimistic about how his would turn out.
"My wallet's gonna stink," he said as he tried to carefully join strips of his red duct tape together.
However, by the time he was finished he felt more satisfied.
"At least I can put $5 in it," David said.
Debbie Luchenbill, teen services librarian for the Johnson County Library, led the event even though she had no experience making products out of Duct Tape herself.
"This is the first time I personally have done this," she said.
However, other libraries in the Johnson County Library system have put on Duct Tape craft events, working out of a kit that includes several different rolls of the tape in a spectrum of colors.
Luchenbill said she was disappointed that more teens didn't participate, but she said it often was hard to reach out to that age group and Friday's daylong drizzling rain didn't help.
"You usually get a lower turnout at teen programs," she said. "Teens are really busy. They have a lot of different demands on their time."