LTMS

principal promoted to

HR

post
It isn't without misgivings that Mark Schmidt anticipates his promotion to De Soto USD 232 human resource director.
Schmidt will assume his new duties July 1 after spending his entire career in education in the classrooms or offices of middle schools or junior highs. He has been principal of Lexington Trails Middle School since 1998-1999. Schmidt will replace the retiring Lowell Martinie, who will remain on part-time status next year to help with the transition.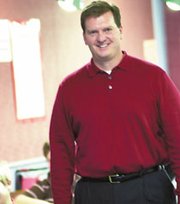 The USD 232 Board of Education is now looking for Schmidt's replacement at LTMS.
While looking forward to the challenges of the new position and working closely with the central office, Schmidt said he regretted the end to his day-to-day association with students, teachers, staff and parents.
"It's going to be very difficult moving away from the energy of the students and teachers at Lexington Trails and moving away from the pure education side of it," he said. "The way I look at it right now is the same as when I moved out of the classroom to an assistant principal position. I was correct; I did miss the kids. But I was able to grow in other ways and still impact the education of kids.
"I believe it will be the same here. I believe I will be able to improve the education of the kids."
In his nine years at Lexington Trails, the middle school's enrollment grew from about 260 students to 480. The school underwent a complete renovation and it was one of two schools where the district introduced its now reformulated one-on-one laptop program. Schmidt said working through those challenges with his "flexible" staff was the highlight of his decade at Lexington Trails.
"The renovation -- they were able to work through the noise of the jackhammers for a year," he said. "There were few kinks in the laptop program, and they were able to get through that as well. Now as I walk the hallways, laptops are part of the culture."
He will be leaving a staff now fully engaged in the district's Failure Is Not an Option" initiative.
"It's more an attitude than a policy," he said. "It's about continuing to look for an option -- continuing to look for something that is going to work with that student."
It is not about grades, Schmidt said. The effort is as much about reaching an underachieving C student as a failing student, he said.
Ten banners celebrating the success of Lexington Trails students and numerous e-mails from thankful parents underscore the success of his staff, Schmidt said. Such positive feedback will be rarer in his new position, he conceded.
"I enjoy the positive feedback," he said. "But you have to find things that motivate you personally, and I'm really self-motivated."
There will be plenty on his plate as human resource director. He will soon be responsible for recruiting teachers who share the district's philosophy, Schmidt said. That's one of the exciting prospects of his promotion, but most of his time will be spent with current staff, he said. Among those duties will be negotiations, interpreting negotiated contracts, dispute resolution, staff assignments, policy review and other duties that will be developed as he works with Superintendent Sharon Zoellner.
Schmidt earned his undergraduate degree from Bethel College in North Newton, his master's from Emporia State University and doctorate from Kansas University. He taught middle school social studies in Hillsboro and Washburn Rural before becoming an assistant principal in the Goddard school district and then Southwest Junior High in Lawrence.
Schmidt's promotion was one of a number of 2007-2008 personnel moves the board made Thursday. Kim Gracy was named principal for Horizon Elementary School, which is to open in August in Shawnee. Gracy currently is the assistant principal and learning coach at Riverview Elementary School in Shawnee.
Also Thursday, the board appointed Mark Dodge to be principal of Riverview Elementary to replace the retiring Cathy Grube.
More like this story