And babies make six
De Soto family doubles in size with arrival of triplets
After suffering seven miscarriages, Chris and Kim Stephens got a one-in-a-hundred brith.
The couple's triplets , Cora Sue, Cameron Ray and Carter Lee -- two girls and a boy -- were born Nov. 27, 2006, after the couple tried once again have a child through in vitro fertilzation. The process worked spectatularly when both the implanted eggs fertilized and one divided.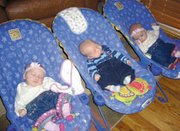 This trio expands their family to six. They join big brother Collin Garrett, age 4.
"There was less than a 1 percent chance of that happening," Kim Stephens said.
The Stephens' long journey started after Kim had a fallopian tube removed following her second ectopic pregnancy. Her physician told her the only plausible method of getting pregnant was by in vitro fertilization. Both Collin and the triplets were conceived through this method.
In vitro fertilization costs a total of $30,000 to $40,000.
The couple put a second mortgage on their first home, but said it was worth the money in order to have a family.
"At the end of the day, we just wanted to expand our family," Kim said. (Kim?).
It took the Stephens' three months to find out Kim was pregnant with triplets. It was a surprise to both that two eggs produced triplets.
According to the online Encyclopedia Britannica, about 1 in 8,000 births result in triplets.
"What are the odds? They are very slim. When you put two eggs in, you hope to get one," Kim said.
Everyone had different initial reactions including their son Collin who asked daily, "when the babies would pop out?'
"I laughed. My husband said we needed a bigger boat," Kim said.
Throughout the pregnancy, the family prepared by purchasing necessary essentials.
Chris Stephens said they visited an area wholesale store twice a week to buy diapers and baby wipes ahead of time and they both became educated about raising triplets by reading books ranging from pregnancy to having triplet newborns.
They also hired Amy, an au pair from Thailand. Amy works 45 hours a week and lives with the Stephens.
Kim now considers Amy a member of their family.
"It is amazing to have a second culture in the house," Kim said.
The last two weeks of pregnancy were the hardest for Kim because of her size. On the day of her delivery, she was the size of a woman 58 weeks pregnant. From her belly button to back she measured 54 inches around.
The triplets arrived five-and-a-half weeks early. Cora weighed 4 pounds 13 ounces; Cameron 4 pounds 10 ounces; and Carter 4 pounds 7 ounces. All three needed feeding tubes after birth.
Carter was the first to go home after staying at the hospital for five days.
Leaving the hospital without the girls was hard.
"It was devastating. I can't describe how horrible. On the flip side, I knew that they were going to have a short stay," Kim said.
Cora and Cameron arrived home Dec. 9, just in time for their first Christmas.
"Christmas was amazing. We had a lot of family in town. Most importantly, we were so blessed to have the babies home," Kim said.
Since the triplets have been home, they have been on a solid routine. On average, the babies go through 25 to 30 diapers a day, and spend $150 in formula per week.
"We have already surpassed the 1,000-diaper mark," Chris said.
To find out how Collin and the triplets are progressing, visit the family's Web site at www.stephenstriplets.blogspot.com
More like this story