Putting a cap on suffering
De Soto women keep their hands busy to help end infant mortality in the Third World
Thanks to the efforts of the De Soto United Methodist Women, their counterparts with the De Soto American Baptist Women and other residents, more than 400 newborns in the developing nations have a better chance of surviving their first months.
Around 15 De Soto residents knitted and crocheted more than 400 stocking caps between October and December of various sizes and colors, but all with the intention of keeping babies warm.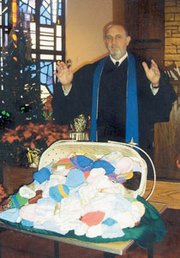 Boots Linden, the unofficial organizer of the De Soto project, said she was reading a magazine and discovered the national campaign, called Caps to the Capital.
"I thought it would be a nice thing for the Methodist ladies to do," Linden said. "Then we forwarded that information to the Baptist ladies. It's a worthwhile cause. We get to save newborns. It was a short project and didn't take too much time."
Linden, who has knitted her entire life, said the national project provided crochet and knit patterns. She said she was able to knit a cap an evening and was able to do it while relaxing or watching television.
Freda Anderson, who produced 100 caps, opted to crochet rather than knit. She said it took a little over an hour to make one cap.
The project appealed to Anderson because it allowed her to make a difference in a child's life by doing what she loves to do -- crochet.
"There are babies in Africa that need hats to put on so they don't die," Anderson said. "They get cold at night and babies die. I didn't like that idea, so I helped make the hats for them."
Anderson also said the project appealed to her because it was a collaborative effort, one which included women of different faiths.
Linden said both the knit and crochet patterns allowed for a lot of flexibility. She said because of that, no one cap is the same. Caps are single-colored, multi-colored, patterned, non-patterned and come in different sizes.
"You start putting different colors together, and some people even did different patterns," Linden said. "It's such a short-term project, so it's nice to do something you can finish in one night."
In addition to helping save newborns in Africa, the project's aim is to inform President George Bush that the citizens of the United States care about newborns around the world.
According to the Caps to the Capital Action Kit, each cap should include a short note telling the president just that. The notes would get forwarded on to the White House.
Linden said she was unsure how much of an impact the De Soto coalition's efforts made on the political side of things, but was just happy the group was able to do it.
"I'm not sure if the notes did any good," Linden said. "But it did get people's attention and got them interested in knitting and crocheting."