De Soto 2006 housing starts steady, could boom this year
De Soto's new home starts remained steady in 2006 but expect significantly more in the coming year.
The city recorded 33 new home starts last year -- the same as 2005 -- but added 12 new units from three triplexes and three new commercial buildings.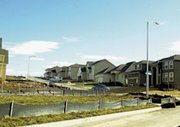 De Soto building and codes officer Steve Chick said 2006 was a slow year but 2007 promised to be much more active.
New building permits have more importance in the city because of assumptions made in financing the $9 million new wastewater plant. Two years ago, the De Soto City Council agreed to a financial plan that would pay for the majority of that plant through system development fees charged on new home, apartment or business construction. If the new development doesn't materialize, any revenue shortfall would have to be made up through month rate increases or -- worst case -- property tax assessments.
Of this year's new home starts, 15 were the first home sites in the 213-home Arbor Ridge subdivision, Chick said. There remained 28 homes in that subdivision's first phase, and the developers were expected to file for the subdivision's second phase soon, he said.
That was true, said Dan Gulley, a local real estate agent whose Axiom Reality is handling sales for Arbor Ridge. He also agreed with Chick's assessment that 2007 should see significantly more new home starts in De Soto.
Arbor Ridge has been slow getting started, Gulley said. Part of that reflected a national down turn in the residential real estate market, although the Kansas City metropolitan area wasn't as bad as the East and West coasts, he said.
"New construction sales have been down tremendously," he said. "Everyone is trying to sell inventory."
The reduction of inventory, pent-up demand, lower gas prices and return of low interest rates all point to a healthy rebound of home construction, Gulley said. Arbor Ridge should be ready to take advantage of a recovery, he said.
At the end of the year, none of the homes in Arbor Ridge had sold and all but a couple were still under construction. The single street on which the homes were being built looked more like a construction site than a neighborhood.
"The first phase of any subdivision is always the hardest," he said. "The homes are incomplete and the yards are incomplete. Once you get homes occupied, that gets people really ready to buy."
There were some spec homes ready to close, Gulley said. Once they do, the developers would apply for more building permits and start building more spec homes.
Gulley is also handling the Country Village townhomes being built off Lexington Avenue and the Oak Country 8. He expects good things for those developments in 2007, too.
"We're coming out with some new floor plans at Country Village to build interest," he said.
As for Oak Country 8, the first permits for that 23-home development could be pulled this spring.
"The phones calls we have gotten for that have been very surprising, so I would expect it will fill up pretty quick," he said.
Oak Country 8 will be served by septic tanks and, thus, will not contribute to the city's sewer development fund. As it stands now, the only subdivisions that will are Arbor Ridge and the nearly built out Timber Trails and Timber Lakes.
That could soon change. The De Soto City Council agreed to an agreement last month that would assure the eventual extension of Prim Rose Drive, a condition for Nate Harding's Brook West and Joann Thompson's Cherokee Woods.
In the agreement, the council and staff agreed to support Harding's application for a preliminary plat to his subdivision. However, the De Soto Planning Commission might want greater assurances the street will be completed.