The math of sub-state
Girls hope it all adds up before all-important tournament
Time has run out. If the De Soto girls basketball team plans on realizing its lofty pre-season goals, the team has only days remaining to figure it all out.
The Cats lost twice in the last week, falling Friday at Louisburg, 43-37, and Tuesday at Baldwin, 57-50, and learned Wednesday they'll face the toughest possible test in the first round of the sub-state tournament. De Soto (8-10) will Monday travel to play Tonganoxie (18-1).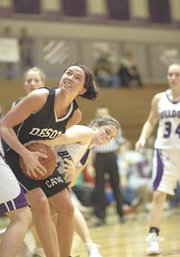 De Soto remained buoyed by confidence, however, even after the difficult stretch. Cat coach Dwight Spencer said that attitude and his still-present faith that his team can turn it around before next week's sub-state tournament is as easy as addition.
It's all about finally realizing the sum of the team's many valuable parts.
"I still feel good about our chances when we go against these better teams," Spencer said.
"When we put it all together, there's not a team in our sub-state we can't beat.
"We're just going to have to put it together."
One part in particular stood out Tuesday in De Soto's gut-wrenching loss at Baldwin. The Cats had a 23-22 halftime lead, were within one late in the third quarter and three late in the fourth, but couldn't seize back control.
A Kira Gonzalez 3-pointer helped the Cats stay in the game late and a Kaylee Spencer layup nearly pushed De Soto over the top late in the game, but only senior forward Jackie Goleman shined throughout.
The 5-foot-11 post played perhaps her best game of the year. She had 13 points in the first half and finished with 24, though points only account for half of what she provided.
She scrapped, bullied, maneuvered and pushed, grabbing offensive and defensive rebounds and helping De Soto stay in the game.
"It was one of her best games of the season, definitely," Gonzalez said. "She did everything she could. It was amazing."
Good all the way around in the first half, De Soto started the second very slow. Baldwin's Kelsey Verhaeghe hit a 3-pointer and was fouled on the play, jumpstarting the Bulldogs.
De Soto quickly found itself trailing, 38-32.
The Cats' best chance to get back in the game came when Goleman made one free throw, then grabbed a rebound after missing the second. She kicked the ball to Gonzalez who sank a 3-point shot to pull the Cats within one, 39-38.
De Soto again closed in after Kaylee Spencer passed up a 3-point shot, instead opting to drive to rim for a layup. Kelsey Fisher made a trey moments later and the Cats were within three, 51-48.
They'd get no closer, however, a pair of Goleman free throws representing De Soto's only other late-game scoring.
"At times the kids played well, but at times we weren't getting it done," Dwight Spencer said. "We can't panic when we're down two, four or even six points."
It was a close game on the road against a good team, but both Spencer and Gonzalez agreed it's the kind of game the Cats can't afford to lose this time of year.
De Soto played again Wednesday night against Wellsville, but results weren't available at press time. The Cats have just one more regular season game, a Friday showdown at home against Anderson County.
The team then launches into the sub-state tournament. De Soto has faced just three of the seven other teams in the field, and it lost to all three. The Cats fell to top-seed Tonganoxie 64-39, Eudora 52-40 and Baldwin.
The odds seem long -- the host Chieftains are widely considered among the state's best and only lost their first game of the year last week.
De Soto's still confident, however. It's as easy as adding it all up, Dwight Spencer said.
"It's frustrating because the effort is there. We still have kids diving everywhere for loose balls," Spencer said. "We just can't seem to get quite enough to win some of these games, but we have to figure it out soon.
"The kids expect to be successful. We're going to have to play great basketball, but we can play great basketball."
More like this story