Season ends in disappointment at regionals
De Soto junior Tom Beaver fell hard to the mat, his opponent, Joey Elliott of Santa Fe Trail, landing with force on top of him. Beaver tried to lunge for the border of the wrestling mat, a white line that offered the break he needed. He came close, too, but Elliott climbed on top and ground the escape to a halt with Beaver just inside the line.
Then, it all changed. Beaver slipped Elliott's grip for a split second and snuck out from underneath. He whipped his legs around to the inside of the mat, choosing to stay and fight rather than run for the border, and before Elliott could offer any reaction, it was Beaver doing the grinding. He wrapped his arm around Elliott's neck and drove his head into the ground. Elliott spun on the mat and twisted to try and get away, but it was to no avail. Beaver, who had bested Elliott earlier in the year in a triangular meet at De Soto, was closing in for the pin.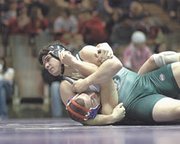 And it all changed for a final time. Elliott finally escaped, regaining the momentum and leaving Beaver temporarily stunned. The lapse would prove fatal. Beaver was rolled to his back and several moments, two minutes and 20 seconds into the match, later the referee pounded the mat and whistled the match over.
With that, another Wildcats' season came to an end.
Frustrating was about the only word for the Wildcats as all seven entrants into the regional wrestling tournament failed to qualify for the state tournament. The Cats escaped with just one match victory in the 15-team, 150-wrestler tournament.
"I don't know what the deal was," De Soto coach Matt Jones said. "Sometimes the kids, they acted like they didn't know what to do. They panicked a little and they froze, and when you freeze, the other guy has open season to do whatever he wants."
Todd Atchison, wrestling in the 103-pound bracket won the team's only match, defeating Shane Squire of Spring Hill for the second-straight week. Atchison also beat Squire last week to claim fifth place at the Frontier League tournament.
Like Beaver's up-and-down final match, Atchison's day summarized the team's frustrations.
At times the freshman was excellent. He staved off a pin early in his match against Squire, wriggling free after spending a seemingly endless 15 seconds with his back on the mat, only the slightest of lift in his shoulders keeping his hopes alive. He rallied, took control and once on top was quick to secure the pin.
He wasn't always able to squeak out of the early trouble, however. His initial match ended in just 49 seconds, and his final one -- a loss to Mat Coles of Chapman -- was even shorter at 34 seconds.
"It's all confidence," Jones said. "When Todd is confident, he'll go out and wrestle excellent. When he's not, it's a different story. He's a freshman, so that will come with age."
De Soto scored just three points in the tournament, which was won by Baldwin with 166 points. The Wildcats' deepest penetration actually came from sophomore 130-pounder Hunter England. One match away from state a year ago while wresting in the 103-pound bracket, England wrestled only once on the tournament's first day. He lost to eventual-champion Kevin Callahan of Baldwin, but advanced to within two wins of state thanks to a pair of byes. He lost his first actual match in the consolation bracket, falling to Chapman's Tim Coles via pin.
"It's frustrating," Jones said. "I like being around wrestling, so I'm never glad when it's over. This is the first time as a coach that I haven't gone to state.
"We need to hit the weight rooms. We need to get some mat time. We can't just start fresh in November. It's not just raw talent -- you have to work on everything."
More like this story