Recreating a legend
Dean Weller's latest project replicates early 20th century racing classic
Sitting in the seat of his replica 1912 Mercer Raceabout, Dean Weller activates the exhaust cut-out.
"Hear the difference?" he asked. "That'll add importance to it, even if it ain't."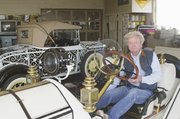 Important is one word to describe the Mercer Raceabout's place in automotive history.
The Mercer Raceabout was a two-seater stripped down to the bare essentials and powered by a four-cylinder, 300 cubic inch, T-head motor capable of developing 300 horsepower. It and the Stutz Bearcat were the legendary sports cars of the pre-World War I era.
"The real thing they guaranteed would do 70 mph in 1912," Weller said. "It was the only car back then you could buy off the showroom floor and take to the race track and win. And that's what they did."
Weller got the idea of building a replica of the famed racer when he read that one of the few remaining originals fetched about $1 million at auction.
In answer to the obvious follow-up question: No, he doesn't think he's going to get $1 million from the replica he spent the last two years building in the downtown De Soto early 20th century Ford garage he owns.
"I was just building it for myself," he said. "And this ain't nothing more than a copy of one worth a lot of money."
Only 20 Mercer Raceabouts survive of the 200 built, Weller said. So building a replica requires craftsmanship and creativity, even for someone with a historic showroom and garage filled with rebuilt antique cars.
That was the part of the job that appealed to Weller.
"You don't find Mercer parts," Weller said. "Even if there were parts, they'd probably be worth a lot of money.
"This was something different for me. I had to build the fenders, gas tank, seat frames and the radiator."
The fabrication of the brass radiator housing was an item of special pride for Weller. He meticulously worked out its measurements and that of the rest of the car from pictures of the famed racer.
"I had that bulletin board so full of figures and sketches to plumb make sure it would work," he said. "I had 11 books with photographs from every angle. That's how I got my dimensions."
In working out the dimensions of the car, he started with the placement of the brake and clutch pedals and worked his way forward and back, Weller said. His work was made easier when he found the measurements of the frame and drive train of a 1930 Pontiac nearly duplicated that of the earlier Mercer.
"They fit so well I couldn't do better myself," he said.
The motor in the antique Pontiac also rested low in the frame, allowing Weller to duplicate the lines of the ground-hugging Raceabout.
The Bearcat and Raceabout were part of what is known as the "brass era," and there is plenty of brass on Weller's replica. In addition to the brass radiator shield, there is the brass gas headlamps, side mounted parking kerosene lamps, gauges and gas caps.
Unable to find automobile brass gauge housings, Weller adapted those off oxyacetylene welding tanks. The brass from the steering wheel column was originally a stair rail. A friend crafted the twin gas caps and others donated scraps of brass that provide highlights throughout the car.
But the intricate front headlamps were too complex for Weller or his friends. Weller had a Florida craftsman fabricate the lamps for $1,000.
"It took him six months," Weller said. "After five months, I called him and asked why he needed the $1,000 in advance. He could tell I was a little worried and said he would return the check the next day. Then, I would have just had to wait another six months, but it did make me feel better that he offered."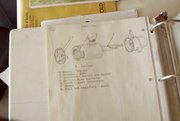 Weller doubted the gas headlamps provided nighttime drivers much warning of what was ahead, but he wanted to be as true to the original as possible.
Discerning viewers would notice Weller's replica has drum brakes in the front and back rather than the back only on the Raceabout. They might also notice Weller's version has an electric starter so that he doesn't have to crank the motor to life.
"I didn't want to break my arm," Weller said.
On field test, he got his replica up to about 30 mph, Weller estimated. He doesn't know for sure because he's still hunting for the gear that will make his speedometer functional. There are a few other odds and ends he'd like to finish too, such as the medallion on the radiator.
But the real work is finished and that has Weller anxious. A fit 81 years old, Weller said rebuilding antique cars in his garage has given him a respite from the worries of seniors.
"I've built 24 cars in the 28 years I've had this place," he said of his garage. "I'm uneasy right now. I'm walking the floor waiting to see what I get started on next. My wife wants me to get started on something, too."
His idea is to build a replica of the Raceabout's rival, the Stutz Bearcat. To do that, he needs to find the right antique frame and drive train. He was traveling to Chickasaw, Okla., next month for an antique car swap meet, hoping to bring home what he needs to get started on his next project.
"I think it would be neat to have a Stutz Bearcat sitting beside a Mercer Raceabout," he said.