Larry Johnson's father was a coach. So was Brett Favre's, Tiger Woods' and "Pistol" Pete Maravich's. Jimmy Connors was coached by his mother through much of his tennis career and Venus and Serena Williams spent the early years of their career learning from their father.
The traditional view of the coach's kid makes some sense then: the tallest, fastest and most gifted athlete blazing a trail, be it Woods drilling a putt at the Masters or Bryce Drew sinking a buzzer-beating 3-pointer to send Valparaiso to the next round of the NCAA tournament.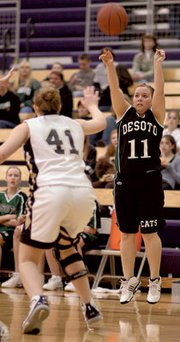 And, maybe De Soto girls basketball coach Dwight Spencer has that child.
Jesse Spencer is one of the tallest girls her in class. She's one of the most experienced when it comes to basketball, and she'll no doubt make her mark on the varsity court when she advances from eighth grade.
"She's 5-foot-6 now, and I'm still hoping for 5-10," Dwight said, a fatherly twinkle lighting his eye.
Older sister Kaylee would need high heels and a chair to push 5-10. She's short and she's not a fast runner. She's an average ball handler and she's just alright on defense. She's not the best basketball player in her class.
Kaylee Spencer makes one alter the definition of what it means to be a coach's kid.
Doesn't she?

Doesn't she? Kaylee Spencer is a 5-foot-3 senior guard, though pull out a tape measure and even 5-3 begins to look suspect.
Confidence radiates, however. It did when she first stepped on the varsity court a year ago and it did when she most recently stepped off Tuesday night following De Soto's 68-50 loss against Paola.
In fact, she's never been more confident than she has this season, and this season she's never been more confident than she has been through the last week.
Kaylee hit a varsity career-high five 3-pointers against Paola and she had four Saturday in a win over Kansas City-Turner. She leads the team in 3-pointers made and is third in points scored.
Dwight said Kaylee's been confident as long as she's been playing basketball -- basically her entire life -- and that it has really helped her.
It's helped her deal with the sometimes-unexpected burden of being the coach's daughter and it's helped her carve out a niche all over her own on the De Soto basketball team.
"She's never seen a shot she doesn't like," Dwight said, "but she's never seen a shot she can't make. She just kept shooting and it paid off for her."
It'd be easy to mistake Kaylee for little more than a basketball wanna-be if either the last names were removed from the game program, or the players lined up ready for a game with no prior introduction. Proof of that often comes soon after the game's opening tip.
Kaylee has become a regular starter this season and she is always the shortest Wildcat on the floor and typically the shortest player from either team. On more than one occasion her teammates have taken advantage of that, however, whipping the opening tip to her as she keys up from 3-point range.
Though she's had her ups and downs this season, she hasn't missed that shot. Proving an entire gymnasium with a simple smooth stroke is just too juicy to pass up, she said.
"They think 'OK, she's short,' then I hit a couple 3's," Kaylee said. "It makes me feel good. The coaches will start yelling 'Shooter, shooter!' when I get it."

There was never much mystery as to where Kaylee stood genetically.
"From day one we knew she wasn't going to be very big," Dwight said.
Kaylee focused on shooting, however. Her dad coached at Kansas City-Turner and Basehor-Linwood before coming to De Soto seven years ago. Kaylee followed her dad to camps in the summer and to practices in the winter the whole way. She shot in the gym while he worked in the classroom and she shot in the driveway when they were at home.
She shot, even when he told her not to.
"I never worked on ball handling, but he always told me to," she said. "I just always worked on shooting."
Her dad credited the shooting development to a measured pace. He never allowed the driveway basket to be raised above a reasonable level. It stood at six feet when she was young, then steadily worked its way up as she grew older, stronger and (somewhat) taller.
She developed a fundamentally sound form -- impressive enough that coaches at a Kansas University skills camp marveled rather than corrected.
That began to pay off on the court. Kaylee said she was comfortable from 3-point range as a freshman and developed into a more sure shooter when she was a sophomore.
It first began to translate into varsity minutes in her junior season. Though she spent the year on the far end of the bench, she made the most of her minutes. Those opportunities were very situational -- she only played in blowouts, or when the team was desperate for the lift a torrent of 3-pointers could provide.
Lift she did, nailing two 3-pointers and scoring eight points in just a few minutes of playing time in De Soto's third game of the year.
She's brought that quick strike to this year's team. She'll nail a quick 3-pointer for an early lead, or she can hit a couple to close a gap or open a game up. Kaylee Spencer isn't fast -- her scoring is, and that's enough to keep her on the court.
"It's nice to have someone out there who can hit a couple 3-pointers in a row," Dwight said. "It can be a huge difference maker. It seems so much faster, even faster than the 50 percent that it actually is."

If only things were always so smooth.
Being the coach's oldest daughter hasn't always been easy, both coach and daughter agreed.
"The thing that probably happened to her most as a kid, when you're coaching third- and fourth-graders, you can't scream at them," Dwight said, "but I could vent a little on my own child."
"I had one of my seniors come to me last year and say 'Coach, I know you're the coach, but you were way to hard on Kaylee yesterday.'"
He said he's always worried about how he treated her in relation to the other players, desperately trying to find a balance between being too easy on her and being too hard on her.
And, it hasn't helped that she's never been the best in her class.
It's never been the skills, Dwight stressed, but it's simply difficult for a short basketball player to find a place, which leaves him worrying about playing favorites.
She was never as good at defense as some of the other players -- always a step slow -- and as she grew older her lack of ball handling began to catch up as well.
"She was operating with two strikes against her from day one," Dwight said of her size and speed. "There were times, just athletically, I honestly worried about whether or not we'd have to cut her."
The other end of the spectrum is difficult as well, Kaylee said. People expect things from the coach's daughter, and having a towering younger sister only underlines her shortcomings.
"It's hard with him being the coach and also with my sister being taller than me. She's just naturally better than me, because she's taller," Kaylee said. "I feel the pressure, but not too much -- not to the point where I want to quit because I'm thinking I'm so bad. But, I felt like I could have done better through my high school career."
Kaylee has adapted on the defensive end to help compensate for an opponent's quickness, and she spent all summer refining her ball handling. She's now started most of her senior season.
But the difficulties at times went even deeper. Trying to find that balance between too easy and too hard, Dwight took himself out of the equation when she first sat on the varsity bench last season.
The responsibility of subbing Kaylee into a game fell on then-assistant Kelly Dennis.
"The first time she sent Kaylee into a game and it was close, I looked at her and said 'What?'" Dwight said. "But she came in and hit a big three for us and hit another shot."
"It's been hard on me. It'd be easier if she was without a doubt the best player on the team."
Sometimes being hard has it advantages, he said. If he's not subbing her in, and if he's always demanding a little more from his own daughter, he said no one can question her place on the team.
That's what has happened this year: no one questions her place. Comfortable with her improvements, Dwight took back control of her playing time. It was something he hesitated to do, but something he said he did with a great deal of pride at the same time.
"She's worked so hard to be one of the better players on the team," he said. "You get what you get in life and you do the best you can and I think she's done very well."

A number of De Soto's varsity players will entertain scholarship offers as the season goes along. Kaylee probably won't. She said she'd love to stay involved, however, maybe as a coach wherever she ends up attending college.
Still full of confidence and toting a textbook shooter's touch, maybe she would make a good coach too. For now, it's still high school basketball though, and Kaylee said she's never been happier on or around the court.
"I've loved my senior year," she said. "I've loved every second of it. I love all the girls and we just have so much fun."
Dwight gets that twinkle in his eye and a smile crosses his face when he talks about the potential of his youngest, Jesse. If he's going to have a child make it big in basketball, she's the one.
His face firms when he talks about Kaylee, however.
His smile hardens a little and his eyes narrow a touch. The optimism is gone, but something else takes its place.
He's proud. Very, very proud.
"It's hard, because I know she needs to do everything better than everyone else," he said. "I've been too hard on her, but if I'm harder on her, other people won't be."
Kaylee never even touched the bench Tuesday as De Soto struggled against Paola, and her shooting helped the team have a chance at one of the league's best squads.
Her dad stood behind her the whole way, urging her on and throwing his arms wildly in the air whenever she connected from 3-point range.
De Soto wasn't even supposed to have a chance against Paola, but the Wildcats played hard, they played carefree and they loved every second of it.
Afterward, Dwight said they played like Kaylee.
"She's a kid that's never been handed anything," he said. "That she's on the varsity team -- I'm pretty proud of her."