Local supercross champ wins Bay area trip
Collin Cramer still remembers his first ride on a motorcross bike.
"When I first pulled the throttle, I sure went," the 8-year-old said.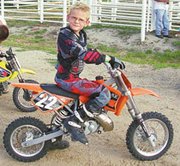 This past weekend the Starside Elementary School student's motorcycle enthusiasm took him and his family to San Francisco. Collin was one of 15 children nationwide selected to race on Saturday in the KTM Junior Supercross Challenge at AT&T Park, home of the San Francisco Giants baseball team. The race was part of an intermission show in between supercross events.
Collin's parents Brian and Debbie Cramer, younger brother Alex Cramer, and grandparents Bob Cramer and Larry and Pat Collins accompanied him to San Francisco.
Supercross racing is one of the family hobbies. Everyone in the family has a bike, and the family has a course in the backyard of their rural Olathe home. Collin got his first Honda bike when he was 5-years-old.
During the summer, the family is weekend regulars at Kansas and Missouri tracks, Brian said. Before the KTM Junior Supercross Challenge, the farthest he had traveled to an event was Springfield, Mo.
For the past three years he has practiced at least twice a week and has raced in Hair Scrambles and Motorcross events, earning 30 trophies. More than half of the awards were for first place.
For Debbie, watching her son race is emotionally satisfying.
"It's a little bit scary to see him take off and start," she said. "But it's great to see them having a good time."
Larry and Pat Collins said racing events promoted an increase in their grandson's self esteem.
"Knowing you can do something and apply it to other things builds confidence in a person," Larry said.
Collin and his family found out about the California race from word of mouth. In order to qualify for the race, potential participants must meet eligibility requirements. The application criteria included having above-average grades,
More like this story