Friends provide students varied lessons
Adult mentors provide time in new
USD

232 program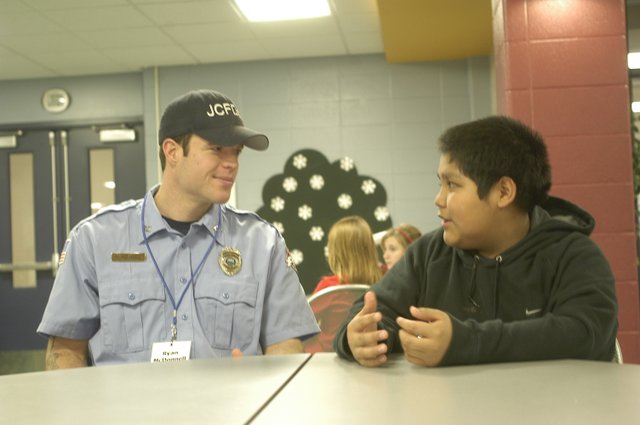 Twelve-year-old Joey Atchison gets to see his best friend just once a week.
Every Wednesday morning, Matt Doughty visits Joey at Monticello Trails Middle School. They talk about school, their families, their hobbies and whatever comes to mind.
Doughty is Joey's YouthFriend. He mentors Joey for an hour each week as part of the volunteer program that was revived this year in De Soto USD 232. The program matches adult volunteers from the community with students in the school of their choice.
Counselors identify students who could benefit from having a YouthFriend with the help of teacher and parent input, said Renee Hultgren, YouthFriends coordinator for the De Soto School District.
The program is not limited to students of certain backgrounds or students struggling in school, Hultgren said. YouthFriends help students who are shy, socially awkward, need help in school or are having family issues. Essentially, the program helps students who need a friend, Hultgren said.
"The mentoring, the listening, the being a friend is the most important part," she said.
Seventh-grader Joey said his counselor told him about YouthFriends because his parents got a divorce.
"I was kind of nervous," he said. "I thought it would be kind of strange."
However, Joey said it wound up being a good match since Doughty was a divorce and was able to relate to Joey's situation.
"I've been seeing him, and I've gotten to know him really well," Joey said. "He's like a best friend. It's pretty easy to talk to him because we were having the same problems."
When the pair met last week, they talked about Joey's Christmas plans.
"What kinds of things will be different this year?" Doughty asked Joey.
"My mom won't be there when we open presents," Joey said.
Doughty reassured Joey that although Christmas would be different, it still would be special.
"It will seem strange but it's the kind of thing where everybody talks about family traditions and doing the same thing year-in, year-out - those had to start somewhere," Doughty said.
At Lexington Trails Middle School, sixth-grader Oscar Chavez meets with his YouthFriend Ryan McDonnell every Friday.
Counselor Angie Russell said Oscar was identified for the program by his teachers.
"The teachers thought he would really benefit from that just to gain self-confidence because he's a good kid," she said.
Russell said Oscar's weekly meetings with firefighter McDonnell have made a difference in Oscar's personality.
"He smiles all the time now, and he seems like he has a lot more confidence," she said.
McDonnell found out about the YouthFriends program through his work at the Johnson County Fire Department.
Mark Billquist, operations chief for Johnson County Rural Fire District No. 3, said he was contacted by the school district about the program. Firefighters from the department are allowed to volunteer as a YouthFriend on the clock in order to help out in the community, Billquist said.
"This is exactly what I was looking for to become involved in schools, to provide mentoring or buddy-service for youth," he said. "It's putting a positive image out there and answering questions for kids interested in fire service."
Billquist was present Friday during McDonnell's visit with Oscar. Normally, the pair meet in the library, but Friday's meeting was different as it was the last day before winter break. So instead of sitting and chatting in English and in Spanish as they often do, McDonnell joined Oscar at an assembly and the sixth-grade breakfast.
After breakfast, Oscar showed McDonnell his drawings and the two talked about their similar interests.
Hultgren said it's no coincidence that students have things in common with their adult mentors.
"We consider time and day and the schedules of course, but then after that we really look at interests and what a student and adult may have in common," she said. "If a student needs help in a specific subject such as math, we may match them with an engineer or accountant."
The YouthFriends program started in 1995 in six school districts in the Kansas City metropolitan area with 613 volunteers. Now the program is in about 100 school districts in Kansas and Missouri.
Since the De Soto program is new, Hultgren still is looking for more adult mentors. So far, she has about 50 YouthFriends, but she would like to have about 100 by the end of the school year. All volunteers go through training and background checks before being matched with a student.
"We tell them how important it is to listen and to be a friend," she said. "We give them some listening tips.
"Everybody has so much to offer. All you have to do is be a friend."
More like this story