City looks to relax regs to fit downtown goals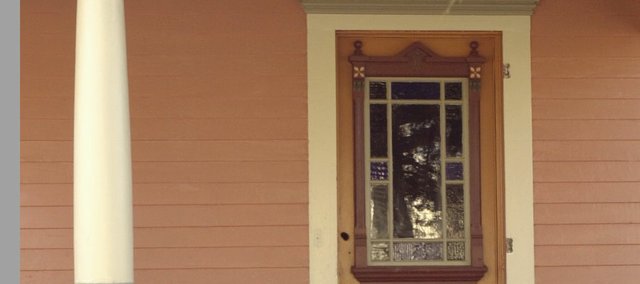 At the start of its meeting Tuesday, the De Soto Planning Commission tabled Bob Power's special use permit for his construction company's new office for another month.
Power first filed for a special use permit to use an abandoned and declining historic home on 83rd Street for an office in October 2006. The project is exactly what supporters of De Soto's downtown revitalization plan envisioned when it was approved a year ago. And although the Power has made steady and noticeable progress in rehabilitating the house, trying to fit that conversion into the city's current zoning regulations has proved problematic.
That's not surprising, because the city's building regulations regarding such things as parking, fencing, landscaping and buffering were written to apply to new residential subdivisions and new commercial or industrial sites not the renewal of older neighborhoods.
The fact was recognized early last year, and the De Soto City Council directed city staff to get with Marty Shukert, the Omaha urban planner who authored De Soto's downtown revitalization plan, to adjust city zoning and regulations to the goals of that plan.
On Tuesday, De Soto planning director Linda Bohnsack presented a draft document that attempted to make that reconciliation.
The draft "traditional neighborhood design overlay district" would apply to the downtown area Shukert described as a peninsula between the Kansas River and Kill Creek and bounded to the west by the Sunflower railroad tracks and Kickapoo Street.
When the city has used the overlay district concept in the past, such as at city gateways, they applied added restrictions on top of existing zoning. Bohnsack and city engineer Mike Brungardt said the traditional neighborhood design overlay district would do just the opposite and would relax restrictions to encourage development while attempting to maintain the character of the downtown core.
The goal, planning commissioners agreed, was to encourage development downtown that would provide greater density in a mixed-use, pedestrian-oriented neighborhood of interconnected streets.
Bohnsack's draft provided for relaxed zoning regulations on such things as fencing, setbacks and parking, but also changed the application approval process. The draft proposed projects of less than 1 acre involving three lots or fewer would not go through the planning commission but instead to a site review committee, which Bohnsack said could include city staff, a resident of the district and planning commissioner.
All proposals of 1 acre or more or involving four or more lots would come to the planning commission as planned development applications that tie site plans to zoning.
The concept was to expedite applications for smaller projects in the district by making the application process similar to building permits, Brungardt said.
That proposal proved too much for planning commissioners.
"Somebody could redevelop three lots or nine-tenths of an acre and never come to the planning commission?" Planning Commission Chairman Kevin Honomichl asked. "I don't agree with that."
Planning commissioners asked that at least for the first year applications of less than an acre and no more than a lot could come to the planning commission as site plans, which wouldn't require public hearings or notification of neighbors. Once the scope of activity was gauged and it was learned how the process worked, a more administrative process could be considered, planning commissioners agreed.
The relaxed building regulations in the draft did reflect Shukert's stated goal of preserving the character of the neighbor by maintaining the current scale of buildings and front yard setbacks.
As such, planning commissioners gave an early nod to the draft's proposal that new and redeveloped homes and buildings shouldn't be more than 35 feet in height or exceed two stories. And to maintain a pedestrian-friendly environment, frontage setbacks were limited to a maximum of 20 feet.
As a way to encourage greater density in the district, the percentage of sites single-family residences, their accessory structures and impervious surfaces could cover was placed at 50 percent and multi-family, mixed-use and commercial uses would be allowed 60-percent coverage.
In addition, coverage density bonuses of up to 25 percent could be awarded to developers who made cash contributions to three improvements proposed in the redevelopment plan - a town square, decorative lighting and central processional boulevard.
The draft also would subject development in the district to fees earmarked for a proposed new park south of the east Y and other open spaces in the overlay district.
Throughout the regulation discussion, Planning Commission Mark Crumbaker emphasized the use of the verbs "should," and "may" instead of "shall" and "must." That language would allow planning commissioners greater flexibility when dealing with future proposals, he said.
The planning commission didn't work its way completely through the draft document. Left to be considered are relaxed regulations on parking, landscaping, drainage and buffering.
More like this story