Bunco club rolls dice for Multi-Service Center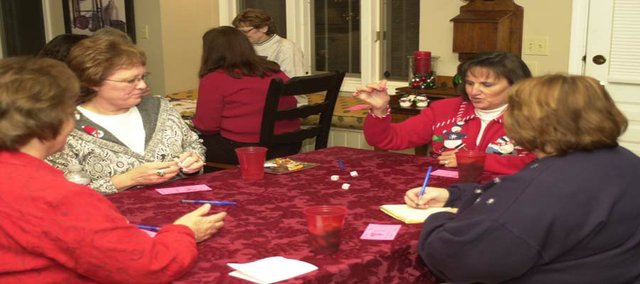 Elvyn J. Jones
ejones@theworldco.info
Conversations around three tables at Janet Webb's home Monday included Christmas meal menus, family visits and a sudden windfall of dating opportunities.
It was the monthly gathering of De Soto's Monday night Bunco club.
Bunco, which the club members agreed is often spelled Bunko, is a dice game. And while the rattle of dice on the table was a reminder the simple game of luck provides the excuse for the monthly gathering, the club might more correctly be called a social club or, more recently, a service organization.
"We always eat at the start," member Charlene Hodge said. "That gives us time to talk."
The Monday Bunco club is one of number in De Soto. What sets the Monday club apart was the four sets of sisters in the club, said Debbie Maniez, who is in the club with her sister Mary Gale Kramer. And she said the club members were loyal and committed.
"This club has been together for a long time," said Maniez, a 30-year member. "We have six people who have been in it for 20 years."
"We've matured old together," said Janet Swaim, a De Soto High School graduate who now lives in Lenexa.
Two years ago, club members agreed they would all add $5 a night into a kitty to be distributed to charities at the end of the year. That added up to $700 for the year.
"We gave $100 to the (De Soto) Multi-Service Center for Thanksgiving turkeys, $100 for soldier stamps and another $500 cash to the service center," Maniez said. "That's just a drop in the bucket."
Anita Woywod said the Monday night club suggested the city's other clubs to help fill the bucket.
"We're challenging the other clubs to start donating to the service center," Anita Woywod said.
Another unusual thing about the club is that although its members have ties to De Soto not all live in De Soto, Maniez said. Hodge of Lawrence is one of those women.
"Our husbands are electricians at the GM plant," Hodge said of Maniez. "We go way back."
The game itself is simple. Two teams of two players compete at a table, rolling three dice. The object in each game is to roll 21 ones, then 21 twos and so forth until a team at one of the three tables completes a run through the six sides of the dice. That is unless someone rolls three of numbers needed. That's a Bunco and ends the game.
"It's all luck," Maniez said.
The luck factor defuses any competitiveness to win, club members agreed.
"We don't care," Swaim said. "It's all for fun."
More like this story