Welcome abroad
On court and off, exchange student a perfect fit for Cats
It's the sports page, so the sports side has to come first.
Ignore for now that German foreign exchange student Barbara Hartz, a junior at De Soto High School this school year, speaks fluent English, rarely pausing to wonder if she's using the right word.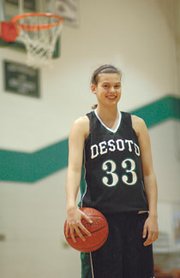 Forget that by all accounts she's easy to be around, friendly, and eager to share about her country and learn about yours; that she falls over giggling like any other teenage girl, cheers from the bottom of her diaphragm like any other high school fan and runs for new experiences faster than she cuts through a man-to-man defense on her way to the rim.
"She's a lot of fun and she's really outgoing," said De Soto freshman Jesse Spencer, Hartz's host sister. "She's like having another sister. It's like always having friends over at my house."
Instead, for now at least, focus on what the 5-foot-11 answered prayer means to the De Soto girls basketball team.
Fast, athletic and oh-so-critically tall, Hartz has been quick to have an effect on the Wildcat girls. Absent virtually every scoring threat from last season and every player taller than 5-6 to log significant varsity minutes, De Soto needed a miracle in the worst way.
And there was Hartz.
"She's very fundamentally sound and she plays at a very high level," said Dwight Spencer, the De Soto girls coach and Hartz's host dad. "She could play at the college level over here eventually."
Hartz scored nearly half the team's points, 12, in De Soto's third game of the season, a 37-25 loss to Garden City at the Hays City Shootout. She added eight more points when the Cats returned home for a 55-21 win against Maranatha.
Four games into her first season of basketball in America, and Hartz has more than shown she's capable.
The bubbly Nuremberg, Germany-native picked the game up when she was six. At first, she played basketball in a soccer-obsessed nation, splitting her own time between competitive swimming, track and field and the flute.
Those soon all fell by the wayside, and three years ago Hartz narrowed her focus to the hardwood.
"I started really doing it on a professional basis. I really practiced during the week," she said. "It's a smaller crowd (that plays basketball,) but if kids get the possibility to play basketball, they really take it.
"I just gave the other things up. I just don't really like them."
She did like basketball, however. Before traveling to the United States, Hartz played on a team with girls much older than her -- some as old as 22. Were she still at home today, she'd likely be playing in the country's second-best women's league, she said.
But, much to the delight of the Wildcats, she's not at home.
There are plenty of differences between hoops in Germany and in America. The first thing Hartz pointed to was the lack of a shot clock in high school basketball. In Germany, she said there was constant pressure to get shots off inside a 24-second window. Learning to slow her game down -- to pass for a better shot and be patient -- has been one of the biggest challenges.
There isn't a five-second lane violation in German basketball, though with as quickly as Hartz has been slashing through the paint this season, it hasn't proven much of an issue.
"She's strong, but not real physical," Spencer said. "I was talking to one college coach who said a lot of the players from overseas, they can shoot the heck out of the ball, but they don't like to get physical or go down low.
"She'll need to get over some of that. She doesn't shy away from it too much."
Adapting hasn't proven much of a problem in any other aspect.
Spencer said he first heard about a possible transfer with basketball skills a year ago, though he was quick to temper his expectations.
"Quite honestly, at first I was very much a skeptic because I've had exchange students who wanted to play basketball," Spencer said. "The classic example, we had one once who came out to participate in the first day of practice and came up afterward and say 'You are much more competitive than we were.'
"So she was a manager. That's fine. I like those kids, but because of that, I'm very skeptical when they say exchange student."
Spencer didn't just come to embrace his new forward on the court, however.
This is the sports page, so the basketball part came first. The term "basketball player" was included in the first descriptions Spencer received, and he admits in the back of his mind it kept popping up. First, after he and his wife Kim and their daughters Kaylee and Jesse were approved to host Hartz, he saw photos of her playing in Germany.
He was impressed, not by any stat line or any highlight, but by the way her shoulders were squared to the basket and her hands positioned to guide a shot.
Later, as an exhausted and jet-lagged Hartz made her way off a plane, he noticed the way she walked, the way she moved and carried herself.
"You could tell," he said. "There's something about the way basketball players move. You can see it right away."
Hartz will likely grow even more into her role on the De Soto basketball team. There's plenty of young talent, but an absence of height and experience. Already an important part of the Cats' offense, she only figures to grow more comfortable.
Through it all, however -- from the first e-mail to the pictures, the walk down the jetway to the first dribble in the driveway -- Spencer said it was all far in the back of his mind.
Buried.
"Mostly we decided to do it because she sounded like a nice kid. She could have been the best basketball player in the world, but if she was a pain to live with every day, that's not something we would have wanted," he said. "If she was withdrawn and shy and didn't want to meet people or get out and do things, it would have been an excruciating year.
"She's very outgoing. Her English is very good, and on top of that it looked like she could be a basketball player."
The sentiment was similar from Hartz.
She said a love of speaking English and a love of basketball made America an easy -- basically the only -- choice.
She has big plans for her trip. In addition to taking in the sites, making as many friends as possible and experiencing everything she can, she wants to set the stage for a return and a future college scholarship.
She wants basketball to be her future.
"I wished if I came over here, I could play, and they told me there was a good possibility," Hartz said. "I was really happy and I really like it (with the Spencers).
"I don't really care that he's a basketball coach, though. He's just a great host dad."
More like this story