Ice storm takes swipe at De Soto
An early winter ice storm that knocked out power for thousands of Kansas residents Tuesday only landed a light jab on De Soto.
Freezing rain came down off and on late Monday and early Tuesday morning before a day of showers Tuesday. The wintry mix continued early Wednesday with a round of sleet and icy snow.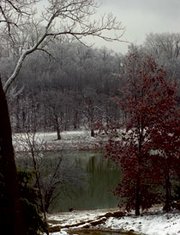 It all made for winter scenes of ice-encased trees and power lines. That led to a power outage Tuesday morning in western De Soto but the city was spared the widespread and prolonged outages of Kansas counties to the north and west.
Although the local storm didn't live up to the worst-case forecast that was realized elsewhere in the state, there was enough concern about icy streets for De Soto USD 232 officials to call off school Tuesday.
Before De Soto USD 232 decides to cancel school, district operations director Jack Deyoe pays close attention to weather forecasts and even tests the road himself before making a suggestion to Superintendent Sharon Zoellner.
The amount of moisture involved in Tuesday's ice storm is what led the district to cancel Tuesday classes as early as Monday night, although the roads weren't as bad as expected, Deyoe said.
However, if the temperature was a few degrees cooler, it could have been a dangerous driving situation, he said.
Although it didn't happen Tuesday because school was cancelled Monday evening, Deyoe along with a few others in the district usually head for known problem areas and test them at about 4 a.m. to see if it would be safe for students get to school.
If most roads are drivable with the exception of a few roads, the district limits buses to ice and snow routes that were mapped out by the district about four years ago. Principals at schools affected by the routes are notified the night before that parents should bring their students to a special stop so buses don't have to venture into more dangerous areas.
When snow routes are used, it is not called in to television and radio stations, Deyoe said. Instead, principals initiate a calling tree to parents who are affected. Deyoe said there are no more than about 20 students per bus route affected by snow routes.
School is cancelled when most roadways are dangerous, Deyoe said.
"If is gets bad to where we are more concerned about the kids driving to school than we are the buses, then that is when we call school," he said.
Deyoe gives his recommendation to Zoellner who then conferences with nearby districts including Shawnee Mission and Kansas City, Kan., school districts. Generally, Johnson County Schools try to cancel together, however De Soto has the option of canceling if the district feels necessary, said Alvie Cater, director of community relations for De Soto.
Deyoe said he most dreads canceling school during the school day because of storm.
"We don't like to send home kids early," he said. "In some areas they do but we have so many working parents. We don't want to send the kids home to a house they can't get into."
De Soto City Administrator Pat Guilfoyle said despite a sleepless night worrying about Tuesday's forecast, the city came through the storm with few problems.
Street crews were out Friday and Saturday to deal with the first milder storm that brought snow and ice to De Soto, Guilfoyle said.
Elvyn J. Jones also contributed to this story.
More like this story