Tipped in
Wildcats edge Maranatha for first victory
It wasn't perfect. The De Soto boys basketball team struggled, failing to capitalize on early leads, failing to put the game away in the second half.
In the was a win, though, something the team was in desperate need of following an 0-3 start to the season thanks to the weekend's Hays City Shootout tournament.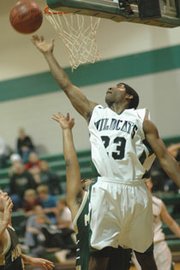 De Soto held off Maranatha 46-43 Tuesday night, securing its first win of the season.
"It's nice to get the first win. It feels nice and its always good," De Soto junior Jamell Townsend said. "I missed a lot of easy shots, but it was alright. As long as we get the win, I'll be alright."
Senior Andre Linzy led the Cats with 17 points, six coming in the final two minutes as he helped hold off the Eagle rally.
Linzy hit a pair of free throws with two minutes remaining, added two more with 50 seconds left and two more in the final seconds, all necessary in the tight game.
De Soto opened the game exactly the way it wanted -- fast. The Cats roared up and down the court, taking full advantage of the edges their speed and quickness provided while avoiding the disadvantages posed by a tall Maranatha front line.
The Eagles managed to bog the Cats down, however, utilizing a zone defense to force De Soto to shoot for its points.
That's where the problems started.
De Soto struggled all season with its height a year ago and while it added one impact forward -- junior Jamell Townsend had 15 points Tuesday -- it still lacks a single player taller than 6-foot-1.
That made working the ball inside Maranatha's zone difficult. De Soto made just one 3-point shot in the game, and it wasn't for a lack of trying. After a long bomb rattled out early in the third quarter, De Soto was 0-8 from behind the arc. Junior guard Brendan Hudson finally swished one, a key bucket that gave De Soto a five-point lead with six minutes to play, but that was it.
Senior Erik Hill, a force in the paint all game, missed a 3-point attempt just long midway through the fourth quarter and Linzy, who recovered the rebound, immediately put up another trey attempt. It crawled all the way in the cylinder before recoiling all the way back out.
"This game came down to them sitting back in a zone and us not being able to throw it in the ocean," Bonar said. "They didn't pressure us or press and we got good, open looks. Still, we absolutely couldn't hit."
Instead, the Cats had to win the game fighting for every point in the paint.
Linzy repeatedly drove the lane on his own to keep De Soto just ahead of the surging Eagles. Townsend and Hill, meanwhile, did what they could to ensure De Soto's shooters always got a second chance.
"Erik down low was battling a bunch of gorillas," Bonar said. "He got some big, big rebounds. He was a warrior in there."
Townsend also took great advantage from the offensive rebounds. He picked up two quick fouls in the first quarter, but bounced back in the second half.
De Soto took a 19-15 lead into half time and Linzy made it 23-17 with a flying one-handed shot from the lane early in the third quarter.
Maranatha rallied again, tying the game at 23 before Townsend helped set De Soto apart.
He put back an offensive rebound with two minutes, 20 seconds remaining in the period to regain the lead, 25-23, then scored again for a four-point advantage.
He finally put back one more after an offensive rebound before the end of the quarter.
"I have to box out strong. That's always been something I've been strong with," Townsend said. "That's what I've always been known for. We're going to have those games were we miss a lot of shots, but we have to keep shooting. We have good shooters, so we have to keep at it."
De Soto shot better throughout its trip to Hays, but it wouldn't soon trade the end results. The Cats played well in their first game, the tournament opener against Hays, but struggled in the final two.
De Soto fell to Hays 63-60, and then lost to Riley County and Great Bend.
"Andre played about 15 minutes in the entire game against Hays. He got three fouls, bang-bang-bang," Bonar said. "He played the whole third quarter and we outscored them 30-11, but finally he fouled out.
"They were a good ball team and a lot of people came up after the game to congratulate the boys."
The Cats return to action Dec. 14 against Atchison.