Gallery, frame shop to add artful touch to downtown
Gil Rumsey sees the future of De Soto's downtown in his past.
Rumsey has had an art studio and frame shop in downtown Overland Park for more than three decades. That's long enough to see a forgotten district come back to life.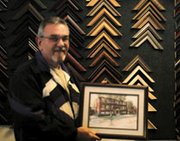 "It was pretty much dead until we started getting mom and pop special-interest stores," he said.
Starting Saturday, Rumsey will bring another such shop to De Soto with the opening of Gil Rumsey's Gallery. The store at 33041 W. 83rd St. will feature Rumsey's original watercolors and acrylics, some antique paintings and frames.
The store at the former office of The De Soto Explorer will be open from 10 a.m. to 3 p.m. Saturdays in December. Rumsey will continue to operate his store in Overland Park.
"When I heard the space was open, I was enough of a business man to want to get something open before Christmas and get a bit of a return," he said. "We're having trouble manning it right now. Starting in January, we'll have it open three or four days a week."
Visitors to the shop can view 50 of Rumsey's original paintings or prints that will rotate as he displays the 500 paintings and 6,000 prints he has created. Much of what he does is "landmark" art, meaning it depicts such well-known places as Union Station and the Plaza in Kansas City, Mo., or the old junior high school and now City Hall in De Soto.
A lot of his work will be recent. That's out of necessity. A March 1, 2006, fire destroyed Rumsey's store in downtown Overland Park and much of his work. Fortunately, he did have a collection of paintings and prints in his home just east of De Soto in Lenexa.
A 1969 graduate of Kansas State University with a degree in commercial illustration, Rumsey said he got into the gallery business in 1974 "by accident."
"I had been free-lancing and did a fine art show," he said. "I had some work left over so I approached the owner of a frame shop and asked if he would carry them."
That led to an offer for a job and a career when the frame shop owner died suddenly, Rumsey said. He then found a new partner in the shop in a company from Texas and managed it for four-and-a-half years before opening his own shop "down the street."
"I enjoy designing frames; I enjoy designing frames for people," he said. "It turned out to be a pretty good business. Good enough, I haven't had to get a job since then."
He looked at De Soto because of his many ties to the community, Rumsey said. Both his children graduated from De Soto High School and he attends the De Soto United Methodist Church, where he designed the stained-glass windows and a sculpture in the church's new memorial garden.
He's connected enough to De Soto that he intends to be active, Rumsey said. Primarily, he will share his experience in Overland Park with the city and the De Soto Chamber of Commerce as the downtown revitalization effort cranks up the next year with the streetscape makeover on 83rd Street from Peoria to Shawnee.
"Prettying it up is nice, but it won't mean much until we get more businesses down there," he said.