Kansas Bioscience Authority invests in De Soto start-up firm
Michael Litscher ran into a snag Tuesday when he attempted to demonstrate an electronic medical device in KC BioMediX's office's in De Soto.
The problem was quickly fixed when his partner Dave Stalling gave him the security code needed to log onto the device's software.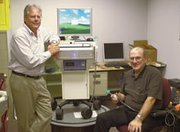 "We're at the point we're ready to take it to hospitals for trials so we're putting in security," Stalling said.
The impending trials are a positive sign for the start-up company's goal to start marketing the device in early 2009 to the 1,100 neo-natal intensive care units in the United States.
To aid in that goal, the Kansas Biomedical Authority announced Tuesday it was awarding $150,000 to KC BioMediX for further research and development of the device.
Near the start of the year, research models of the device will be sent for field testing to neo-natal units at Overland Park Regional Medical Center and a North Carolina hospital, Litscher said. Feedback from day-to-day use at those two sites will be used to further refine the device for production, he said.
The device doesn't look overly complex as hospital equipment goes. Its flat computer screen rests on what looks like a fax machine that in turn rests on a wheeled pedestal. Its only attachment is a long cable with a pacifier at its end.
The pacifier gets to the heart of the device's function, which is to measure the ability of premature babies to suck and to train those without the ability to feed.
When the device is in assessment mode, sensors in the pacifier will measure the baby's sucking activity or lack of it. Normal babies will produce sharp spikes and valleys on an on-screen graph while those who randomly probe the pacifier will produce only small bumps, Litscher said.
When in therapy mode, the pacifier's rhythmic expansion and contraction mimicking normal infant sucking stimulates the pattern control generator in the baby's brain, Litscher said. The idea is the baby's brain learns the behavior with the repetition of the therapy four times a day, he said.
The device is based on research carried out by Kansas University professor Steven Barlow and Dan Finan of the University of Colorado with the help of a National Institute of Health grant.
Barlow developed prototypes of what are now the assessment and therapy modes of the KC BioMediX device for testing at Stormont-Vail HealthCare in Topeka. Premature babies receiving the stimulation therapy left the hospital seven days earlier than those who didn't get the therapy and with fewer complications requiring more intensive parent care, Litscher said.
That's very meaningful when neonatal intensive care stays can cost $1,000 per day, Stalling said.
Other benefits
There could be further benefits down the road, the partners said. The brain's sucking control function is closely associated with other skills, including speech and language, they said.
Moreover, Litscher said the brain tended to allocate resources to meet basic needs at the expense of other functions. When feeding is a problem, other cognitive skills can be delayed as the brain focuses on that primary need, he said.
Barlow plans follow-up research on those babies who received the stimulus therapy as they age to track their development, Litscher said.
Although the idea and initial research behind it wasn't theirs, the partners feel confident they can move both to commercial applications.
Litscher and Stalling forged careers in the life sciences and were active on various task forces exploring the potential of bioscience economic development in the Kansas City metropolitan area. After meeting, they agreed to explore those possibilities on a personal level.
"We were both looking around for something to do without much luck," Stalling said. "We decided we'd create jobs rather than find them."
That wasn't a new experience for Stalling, who helped co-found ABC Laboratories in Columbia, Mo., while working on a doctorate in analytical biochemistry.
Litscher's 30-year career with companies such as General Electric and Beckman Coulter involved the design and manufacture of medical devices, he said.
While looking around for a project, they met with James Baxendale, KU's director of technology transfer and intellectual property. That meeting led to their introduction to Barlow and his research. Last November, KC BioMediX entered into a licensing agreement with Barlow and KU for the rights to market the devices Barlow developed.
Of the royalties KU receives, one-third go to the inventors, one-third to the department and one-third to KU's technology transfer and intellectual property office, Baxendale told the Lawrence Journal World last November. Another portion of the department's cut goes back to the inventor to support the research program.
The Kansas Bioscience Authority's decision to invest in their company could do more than aid in the research and development of their device, Litscher said.
"What it does is it establishes credibility for us in the financing community," he said.
It also put the company in line for further funding from the authority, Litscher said. Of particular interest is a research voucher that could help with the trails in Overland Park Regional Medical Center, he said.
At this time, the company is composed of Litscher, Stalling, chief financial officer Bruce Richardson, and contract employees who provide expertise in software design, engineering and negotiating the regulatory landscape, Litscher said.
Move coming
The company's De Soto location is a result of landlord Shannan Nelson and probably temporary, Litscher said. Although the partners originally looked at Nelson's the Commons office complex in De Soto as KC BioMediX's permanent home, they will probably move to another Nelson building near the end of year in "Shawnee Mission area" when it is completed, he said.
"It's closer to where we live and will allow us to bring the other people in," Litscher said.
They also are looking for a facility "in the Kansas City area" to manufacture the device, which will be priced at somewhere near $125,000, Litscher said.
The prospect of manufacturing a device that can aid in the development of premature babies and spare their parents stress and money is exciting, the partners said. But they understand where their immediate focus needs to be.
"Various people who come in and see it get very excited about it and say, 'Why didn't anybody think of this before,'" Litscher said. "That's a big confidence boost that we can make a difference in the life of premature babies, but we have a lot of day-to-day research and development to get this ready for hospital standards," he said.