Small staff metes out hometown justice
Longtime court team parting ways
Early Monday evening just as the daytime De Soto City Hall employees were leaving, visitors started trickling into building with a scheduled court date in the council room.
Monday was one of two monthly court dates for De Soto Municipal Court, which is scheduled for the second and fourth Monday of each month. As a trial night, Monday was to have the lighter docket and early arrivals found the court manned by a three-person skeleton crew of clerk and 33-year De Soto court fixture Boots Linden, city prosecutor Amy Mitchell and Judge Charles Droege.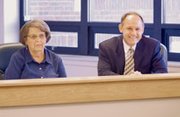 Before the judge's arrival, a slow but steady stream of people entered the courtroom. They paid fines or met with Mitchell to arrange or sign diversion agreements.
"She's fluent in Spanish," Linden said of prosecutor. "That's been a tremendous asset for us. That saves us hundreds of dollars we would have to spend on an interpreter."
Municipal court is the base level at which American society enforces its rules of behavior. There, resolution is found to most misdemeanors, mostly in the form of traffic citations. But Droege said the court also dealt with theft and some battery cases.
Citations for these offenses have swollen the dockets at the De Soto court in the past decade. In 1996, the court handled 259 tickets and collected $21,115 in fines. In 2006, the court collected $153,946 from 1,726 fines.
"When we first started out in 1974, if we had 30 cases we would be up town, and we only had one night because we didn't have the need to have more than one," Linden said.
Droege said traffic is at the bottom of the increase.
"K-10 is a very fast highway. I heard one law enforcement officer refer to it as 'the Autobahn,'" he said. "From time to time, they make an attempt to control it or run an intervention. That can make for a very busy night.
Joining the three-person crew later in the evening or supplementing it on busier fourth Mondays are bailiff and deputy sheriff Bob Hamilton, cashier Pam Hamilton and, on very busy nights, city bookkeeper Bonnie Bennett.
The courtroom crew is about to be broken up. Earlier this month, Gov. Kathleen Sebelius named Droege to an opening of the Johnson County District Court as a civil court judge.
"It'll be the general civil docket," he said. "It's the big leagues.
"It's a very nice honor. I'll be joining a group of judges on the Johnson County District Court I really think are the most knowledgeable in the state. Johnson Countians ought to be proud."
Droege is the second De Soto municipal judge to move on to the Johnson County District Court, following in the footsteps of Peter Ruddick. His experience as a municipal judge in De Soto and Edgerton helped with the appointment and would be valuable in his new position, Droege said.
"It was innumerable help for me," he said. "I learned to keep my cool. Most judges are lawyers before they are judges. The first response of lawyers to a challenge is to fight back. Believe me, when I was a lawyer, I would mix it up. A judge has to keep his cool."
The stakes will be higher in his new position and he will be required to do more legal research, Droege said. Instead of resolving cases in one night, he will preside over cases lasting days or even weeks, he said.
It also will require a wardrobe modification.
"I've never been one for a robe," Droege said. "I've never been too interested in the trappings of being a judge. I've been interested in the work.
"There are certain expectations that the public has for a district court judge in a jury trial and you certainly have to be respectful of the position, so I will get a robe. I'll wear it at the right times but won't be one to wear it a great deal."
His approach to attire reveals the attitude of the man who she worked with the past 11 years, first as city prosecutor and since 2002 as judge, Linden said.
"He's probably the most accessible judge we've ever had," she said. "You call him, and he calls you back. He knows I don't call to chat, so it's important."
Droege returns Linden's admiration.
"She's by far the most tenured clerk in the state," he said. "Without Boots, this court would not function as smoothly. She was here when everything was on paper, to when we got computers to the installation of court management software."