Teachers in training
New teachers to district attend academy to learn De Soto's expectations for student learning
New teachers in De Soto USD 232 were back in class this week. But this time, they were the students.
The district had its Teacher's Academy where new teachers are educated on student learning in the De Soto School District.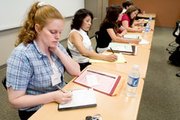 "We always want to set the precedent of what our expectations are," said Jessica Malott, learning coach at Horizon Elementary School.
About 100 teachers were divided in groups and rotated to different sessions with subjects like technology or assessments. All teachers attended the same basic sessions and were divided up Tuesday afternoon based on their specialty areas.
In the technology session, Malott along with district learning service director Kelly Webb led the course on using technology in the classroom.
Webb began the course with a video showing how one French teacher used technology by having her students create brochures about sites they would like to visit in France. The teachers were then asked to grade the use of technology in the video before Webb and Malott explained how technology should be appropriately used in the classroom.
Webb and Malott offered a list of questions teachers should consider before integrating technology.
"Is the focus on the objective or is it on the technology?" Webb asked. "Is the task an authentic task based on a real-world problem?"
Webb said no matter the skill level in technology it was best to pick one technological thing and do it well before moving on to the next.
"That was what I was missing when I was a teacher," she said. "I was good at technology and I could do all this stuff, but I didn't know how to do the 'bam' like Emeril would do."
In another classroom, students were learning about assessments and using assessment data to address teaching strategies.
"We learned how to collaborate with our peers," said Rachel Wilbanks, a new eighth-grade history teacher at Mill Creek Middle School. "We learned about monitoring student progress in order to help them succeed."
In the Balanced Assessment Program session, teachers were taught the concepts and then reviewed them with a game of Testo, a twist on Bingo.
Malott said three years ago the district started making the teachers academy more centered on students than on human resources.
"This way, we can all take it from the same page knowing our overall goal is student learning," she said.
More like this story