Lofty expectations
New coach figures to plant winning volleyball at
DHS
It's all about expectations.
New De Soto volleyball coach Jenny Barnhart couldn't get through an answer without dropping the e-bomb.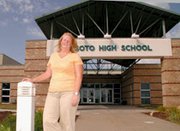 She has high expectations for her players. She has high expectations for herself. She expects certain things from her assistants and she knows after one season as De Soto head coach, everyone associated with volleyball will come to better understand what it is that she expects.
Simply put, she doesn't hope to find success or hope to craft a winner. She expects to.
"I'm excited," Barnhart said. "It will take steps, but my favorite part of coaching is teaching the game. It's been a part of my life since intramural volleyball in fourth grade. It's a life long game."
Barnhart played high school volleyball in Clinton, Iowa, located on the Mississippi River and about 150 miles west of Chicago. She took a big leap going to college, however, departing Iowa to accept a volleyball scholarship at Wichita State. She started for the Shockers for four years, and kept with the sport once she graduated.
She started by coaching club volleyball right out of college, then spent the last several seasons coaching freshman and sophomore teams at Shawnee Mission West.
Four years starting for a NCAA division one program, plenty of experience coaching and dealing with high schools -- it seems like more than enough to qualify Barnhart for a shot as a high school head coach. It goes further than that, however.
Barnhart acknowledges she faces a rebuilding job at De Soto. The Wildcats weren't bad last season -- they fought to the semifinals at sub-state and finished with a respectable 17-19 record. They were even better two years ago, posting a 22-16 record. The program has never gotten over the hump, however, struggling against Frontier League teams. Now Barnhart inherits a team that saw four of its top players graduate, and a fifth -- Kayle Bader -- transfer after her family moved into the Blue Valley school district.
Only a handful of Wildcats return with any varsity experience.
Problem? That's no problem, Barnhart said.
"It's perfect for me," she said. "When I coached at the freshman and sophomore levels, I had to take 16 girls who hadn't played in middle school and teach them the fundamentals.
"I'm not intimidated by it. I'm a pretty technical coach and always develop fundamentals before strategy."
She doesn't plan to reach her goal by simply piecing together a good varsity team, either. She'll be teaching at Mill Creek Middle School, and said she plans to meet with coaches at those levels as well.
It's all a part of her expectation to build a problem, she said. The team must compete not only within one of the toughest leagues in the state -- Eudora was last season's Class 4A state champion and didn't win the league -- but it must also compete within the school. She said she'd love more incoming athletes to choose volleyball, but that can be a tough sell when the cross country program is coming off a state championship and the tennis team was third at state two years ago.
Building at the ground floor is all a part of the expectation, however.
"Right now volleyball is underexposed," Barnhart said. "You've got girls who want to be a part of a winning tradition, so they see a winning program and decide that's what they want.
"I want to get there. I want to get that exposure at the middle school level, then build a bridge from the middle school to the high school. It's going to take a concentrated effort from the middle school to the varsity level, but we can get there."
More like this story