De Soto 4-H'er catches collection bug
The hand-written sign on the door to Lyndsey Fowks' room warning visitors not to enter unless they love goats makes no mention of bugs. It's probably an oversight.
"I love bugs," she said.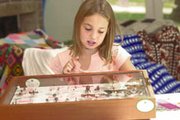 Bugs and goats were among many 4-H projects the 9-year-old daughter of Mike and Sheila Fowks will take to the Johnson County Fair next week as a member of De Soto's Legacy 4-H Club.
All those projects make for a busy period of preparation. With her entomology exhibit, Lyndsey must decide how best to augment the collection that earned her a reserve championship ribbon at last year's fair with the nearly 40 new specimens she collected in the last 12 months. It's not an easy task in a collection containing impressive specimens like the three- to four-inch long imperial and luna moths, various types of swallow-tailed butterflies and a four-inch-long preying mantis.
It's an eye-catching collection that opened Lyndsey's eyes to a whole new world.
"I really didn't know there were so many different kinds of bugs when I was Ellie's age," she said of her ignorance when she was the age of her 6-year-old sister. "I used to think there was one kind of moth, one kind of butterfly and one kind of beetle."
It was also a learning experience for her mother as she and Lyndsey looked up insects in field manuals published by Kansas State Research and Extension, Lyndsey said.
"It depends on if it's common. If it's not that common, we have to look it up. I knew this was a beetle, but I didn't know what kind of beetle it was until I looked it up," Lyndsey said pointing to a specimen.
The Fowks homestead southeast of De Soto provides a varied environment of timber, prairie and pond that affords Lyndsey good insect hunting. But as she trained her eye, she started finding collectable bugs elsewhere, spotting her luna moth at 6 a.m. before a swim lesson at the De Soto Aquatic Center.
Family members have pitched in as well. Her dad found a moth on his car one morning, an uncle provided the four-inch long preying mantis and Sheila is responsible for one large beetle.
"A little boy was about to squash it with a bat at a ball game," Sheila said. "I saved if for the exhibit."
"I really like the katydid," she said. "I like the moths, too, but don't have anything that looks like this one."
Once caught, the live insects are put in the freezer. Which kills them while preserving their tissue. Lyndsey then puts multiple pins through the insect to best show it off until it dries. The final step to display is a single pin through the insect's thorax.
Sheila said the Fowks and the family of Larry and Karen Zimmerman traveled to western Kansas two years ago to learn how to preserve insects, and it's something the two families still have in common.
"I laugh that whenever Karen and I see each other, we talk bugs," Sheila said.
With the grand-championship ribbon from last year's fair, Karen's son, Bryce, is reigning bug king of Johnson County 4-H. Despite the 40 insects she's added to her collection the last year, Lyndsey doesn't think she will unseat the member of De Soto's Pioneer 4-H Club.
"He's really good," Lyndsey said.
"Not only does he have a lot of bugs, but he has male and female versions," Sheila said.
Lyndsey more immediate goal is to catch an insect she desperately wants to add to her collection.
"The zebra, swallow-tailed butterfly," she said. "I've seen it, I've chased, but I haven't caught it."